NBC again slims and trims with just three new fall series (and thinly veiled midseason reincarnations of past prime-time hits
05/14/18 08:12 AM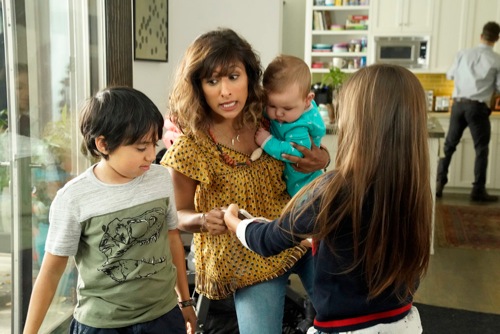 Sarayu Blue stars as a vexed mom in I Feel Bad. NBC photo
By ED BARK
@unclebarkycom on Twitter
NBC, which dominated this season in the ratings battle for advertiser-prized 18-to-49-year-olds, is going lean again in 2018-19 with just three new fall series.
That's the same number as last year, and the Peacock's trumpeting hasn't changed too much.
"NBC Launches Into 2017-18 Elevating Its Winning Lineup With New Shows, Impressive Auspices, and Bold Scheduling Moves," NBC proclaimed the previous year. This time around, the publicity release headline reads: "NBC Carries First Place Momentum Into 2018-19 With Year-Round Programming Strategy Focused on Bold New Shows, Strong Anchors And Top Talent."
The boldest move this time around is loading up Wednesdays with producer Dick Wolf's Windy City three-pack:
Chicago Med, Chicago Fire
and
Chicago P.D.
. In fall 2018, the network went with
The Blacklist, Law & Order: SVU
(also a Wolf series) and
Chicago P.D.
.
Midnight, Texas
, which debuted as a summer show in 2017, has been elevated to the 2018 fall lineup, with a Friday night spot between
Blindspot
and
Dateline NBC
. Midseason berths are planned for
The Blacklist, Good Girls, A.P. Bio, Ellen's Game of Games
and
America's Got Talent: The Champions
, which for the first time will air during the regular season with a special short-run edition.
Brooklyn Nine-Nine
also is due sometime in 2019 after being rescued from cancellation by Fox.
As always, more than a few of the previous regular season's surefire new and returning hits have morphed into canceled misses. Not including summer shows, those failing to make the cut are
The Brave, Great News, Rise, Taken
and
Law & Order True Crime
, which last fall regurgitated the Menendez Brothers. NBC says "decisions are yet to be made" on two other series,
Timless
and Champions. The latter comedy showed no ratings vital signs from the start, so it's unclear why the Peacock supposedly is still on the fence.
Here are NBC's trio of fall newcomers:
Manifest
(drama) -- A flight lands safely, but a bit behind schedule. Namely five years behind, with most of the passengers' friends, families and co-workers having moved on. Hmm, wonder what happened? NBC says a "deeper mystery unfolds and some of the returned passengers soon realize they may be meant for something greater than they ever thought possible." Robert Zemeckis (
Forrest Gump
) is the lead executive producer. The ensemble cast is headed by Melissa Roxburgh, whose
Valor
series from last fall has been canceled by The CW.
New Amsterdam
(drama) -- Bellevue hospital's new medical director, the "brilliant and charming" Dr. Max Goodwin, intends to "tear up the bureaucracy and provide exceptional care." Well, we can't have that. Ryan Eggold, rebounding from NBC's failed
The Blacklist: Redemption
spinoff series, stars as the willful Dr. Goodwin.
I Feel Bad
-- NBC seldom traffics in mom, dad and the kid sitcoms, but here's one. Sarayu Blue is featured as a put-upon mom named Emet in a series from executive producer Amy Poehler. Paul Adelstein (
Prison Break
) plays the husband.
Here's NBC's night-by-night new fall lineup:
Monday
The Voice
Manifest
Tuesday
The Voice
This Is Us
New Amsterdam
Wednesday
Chicago Med
Chicago Fire
Chicago P.D.
Thursday
Superstore
The Good Place
Will & Grace
I Feel Bad
Law & Order: SVU
Friday
Blindspot
Midnight, Texas
Dateline NBC
Saturday
Dateline Saturday Night Mystery
Saturday Night Live repeats
Sunday
Football Night in America
Sunday Night Football
NBC also has announced these new midseason series:
The Enemy Within
(drama) -- Jennifer Carpenter (
Dexter
) returns to prime-time as former ace CIA operative Erica Shepherd), who's turned into an incarcerated traitor. But "against every fiber of his being" (yes, NBC publicity materials actually say this), FBI agent Will Keaton (Morris Chestnut) turns to Shepherd in hopes of capturing a "fiercely dangerous and elusive criminal" with whom she's been previously acquainted.
The InBetween
(drama) -- Cassie Bishop (Harriet Dyer) is able to see and talk to the dead while helping them solve unresolved problems. Her longtime detective friend wants her to deploy these powers to solve a "darkly puzzling murder" in this mashup of
Medium
and
Ghost Whisperer
.
The Village
(drama) -- A Brooklyn apartment building looks nondescript from the outside, but its denizens have "built a bonded family of friends and neighbors" who are founts of "hopeful, heartwarming and challenging stories." The ensemble cast includes Dominic Chianese, the onetime easily riled "Junior" Soprano.
Abby's
(comedy) -- The "best bar in San Diego" has a collection of oddball regulars and a ban on cell phones. Natalie Morales plays the title character. Squint and you'll see
Cheers
.
The Titan Games
(alternative) -- Dwayne Johnson has his fingers in everything, it seems. This time he's the lead executive producer of a physical competition series in which six "everyday" people compete against one of six reigning Titans in "incredible, head-to-head battles designed to test the mind, body and heart." In other words, the return of
Gladiators
. Where are the new ideas, people?
Email comments or questions to:
unclebarky@verizon.net