New series review: Big Day (ABC)
11/28/06 11:32 AM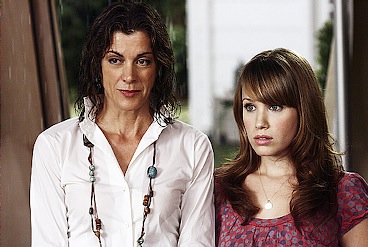 Headstrong mom battles embattled, budding bride on Big Day
Premiering
Tuesday night, Nov. 28th, 8 central, 9 eastern, ABC
Starring:
Marla Sokoloff, Wendie Malick, Josh Cooke, Kurt Fuller, Miriam Shor, Stephen Rannazzisi, Stephnie Weir
Created by:
Josh Goldsmith, Cathy Yuspa
By ED BARK
It's always something, as we all well know by now. But on a big "I do" day, "always something" is triple-strength magnified into
ALWAYS SOMETHING!!!
This brings us to ABC's comedic, manic-depressive,
24
-like look at a day in the life of a wedding. Originally part of the network's fall season launch,
Big Day
arrives fashionably late during the early stages of the holiday season. Gifted Wendie Malick (
Just Shoot Me
) is reason enough to watch as domineering Mother Jane.
See her slap down the very idea of a Caesar's salad in the opening half-hour. Then next week catch her in the throes of a full-blown orgasm triggered by a toe massage. We'll have what she's having.
Jane's youngest daughter, Alice (appealing Marla Sokoloff), is the beleaguered bride waiting to take vows with gangly Danny Garfinkle (irritating Josh Cooke). The clock for
Big Day
starts at 8 a.m., with most of the principals already gathered at Alice's parents' house. Her older, bitter beer-faced sister, Becca (Miriam Shor), again is fated to be a bridesmaid. So she got pretty looped up the night before and slept with Danny's best man, Jay "Skobo" Skobinski (Stephen Rannazzisi).
On their morning after, Becca inadvertently swallows Skobo's contact lenses, which had been left in a bedside glass of water. This prompts a recurring sight-less gag, with Skobo groping around after first calling Becca a "sexy woodchuck" to whom he's just not all that attracted. She's eventually gonna get him for that, as you can see next week.
Big Day
, which navigates without a laugh track, hits its comedy sweet spots in fits and spurts. Danny and Alice have agreed to walk down the aisle to their song, the theme from
What's Happening!!
What a great and also instantly funny tune that is. Seriously. It should be played at lots more weddings -- or at the very least at wedding receptions. Goes like this: "Bwa-da-da-da-da-da-dah-da-da-da-da. Bwa da-da-dah!" Lyrics by Cole Porter.
Alice's stern Dad, Steve (under-appreciated Kurt Fuller), thinks Danny is a doofus. This assessment is enhanced when his future son-in-law bounds into the kitchen to say, "There's my sweet ass bride."
Early invited guests include Johnny (Terry Chen), who used to date Alice, and Fred (Leslie Odom, Jr.), who wants to date Danny. There's also a hard-pressed wedding planner named Lorna (Stephnie Weir), who's hopelessly caught in the middle of the salad battle. Jane demands a dignified mix of baby field greens with poached pear vinaigrette. Daughter Alice has her heart set on a simple Caesar, which mom dismisses as a "ridiculous salad!" Lettuce pray they settle this.
Big Day's
second episode introduces Danny's oddball dad, "The Garf," played to perfection by Dallas native Stephen Tobolowsky. He arrives all sweaty and rank from a lengthy bike ride. But after some tough sledding in the "dry ice game" and a little hand-modeling on the side, Garf thinks he's found his niche as a foot massager. Jane reluctantly succumbs to one, and then is very happy she did. This leads to a truly inspired
double entendre
retort from her hubby after "The Garf" puts on a tux in hopes of making amends for getting off on the wrong foot.
Big Day
definitely has its moments in the early stages of a long-haul wedding day. But can they be sustained, and will viewers even buy the premise? Maybe
24's
dogged Jack Bauer could amp things up by dropping in for a few minutes at the reception. He could use a little levity, and certainly a good foot massage.
Grade:
B