Idol: Nine remain after Chikezie sings his last
03/27/08 01:21 AM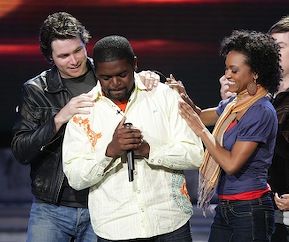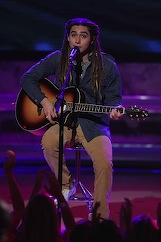 Chikezie's out; Rockwall's Jason Castro survives a scare.
By ED BARK
Rockwall's sleepy-time Jason Castro survived another beating from the judges, but first had to sweat it out in
American Idol
's Bottom Three during Wednesday's latest vote-off.
"I knew it. I knew because I've never been out this late (without being decreed "safe"), the just-turned-21-year-old told host Ryan Seacrest. "I was freaked out all day today."
In Castro's view, being eliminated would be a "shocker." But he barely got those words out before Seacrest said, "Jason, you're safe."
Chikezie instead took the gas, with Syesha Mercado the last contestant cleared for takeoff next Tuesday. Chikezie's previous night's rendition of Luther Vandross' "If Only For One Night" had been deemed "very cheesy" and unoriginal by judge Simon Cowell.
The big bad Brit also lashed Castro's performance of Sting's "Fragile."
"I think you've had two bad weeks," he told the kid. "Everything about it was too laid back, too much in your own world."
Cowell also questioned Castro's commitment to winning. And frankly he didn't persuade anyone that he cared all that much, looking more stoned than stoked.
But Castro now will get another chance to rev it up, this time with help from "mentor" Dolly Parton. Maybe she'll make him sing that peppy ol' "9 to 5," which became one of her big hits seven years before his birth. You think he's even heard of it?