Scott Pelley sobers up the CBS Evening News on his opening night as anchor
06/06/11 06:16 PM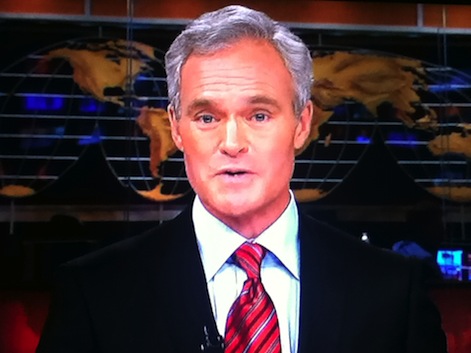 Scott Pelley signs off from his first outing as anchor of the CBS Evening News Monday. It was no-nonsense all the way. Photo: Ed Bark
By ED BARK
An all-business, notably serious
CBS Evening News
hit the air Monday, with former D-FW reporter Scott Pelley the latest Texan to sit in "The Chair."
Pelley made no small talk either at the start or finish of a telecast that began and ended with war stories. On the same day, his predecessor, Katie Couric, officially joined forces with ABC, which will be giving her a much chattier daytime talk show scheduled to start in September 2012.
CBS is promoting its latest incarnation of the
Evening News
as a no-frills repository for "the world class original reporting of
60 Minutes
-- now every weeknight."
Pelley, who had been a featured correspondent on
60 Minutes
, is a San Antonio native who worked at both KXAS-TV and WFAA-TV in D-FW before joining CBS in 1988. He's made it clear that his journalistic heroes are the news division's two principal patron saints, Edward R. Murrow and Walter Cronkite. His first
CBS Evening News
began somberly, with Pelley telling viewers, "Tonight the U.S. shows its firepower along Pakistan's border."
That lead report came from correspondent Mandy Clark, embedded with the Fox Company (the troopers, not the network) in Afghanistan. Seasoned reporters David Martin and Lara Logan followed with companion stories on war developments before Pelley turned to Dr. John Lapook for a story on advances in cancer treatments. It wasn't exactly a cheery first segment.
The
Evening News
also carried portions of Congressman Anthony Weiner's (D-NY) weepy admittance that he had in fact tweeted a lewd picture of himself. Pelley then turned to correspondent Nancy Cordes, asking her rather awkwardly, "Nancy, help us to understand why Congressman Weiner matters."
Pelley's first edition ended with a D-Day anniversary story on a now 89-year-old World War II veteran who journeyed back to the site of his heroics in Normandy with longtime CBS correspondent Anthony Mason in tow.
The newest
Evening News
anchor follows Cronkite (who cut his journalistic teeth in Texas), Dan Rather, Bob Schieffer (both native Texans) and Couric, an Arlington, VA native who failed to lift the program out of third place in her five years on the job.
Pelley made no note of any of this, signing off with, "And that is the
CBS Evening News
for tonight. I'm Scott Pelley. For all of us at CBS News all around the world, good night."
Earlier efforts by CBS executives to attract a younger audience to the
Evening News
apparently have been abandoned in the interests of building on the mostly AARP-eligible viewers still in the habit of watching one of the three dinner hour news digests.
The lineup of advertisers continues to reflect that basic fact, with Pelley's opening edition buttressed by commercials for a variety of advanced age products aimed at warding off or relieving heart attacks, strokes, arthritis, denture slippage, bladder control problems, joint pain and hemorrhoids.
It is not known if Pelley, 53, is yet dependent on any of these remedies. On Monday he was a lean, dark-suited, silver-haired picture of health, taking the
CBS Evening News
back to its elemental basics. Perhaps a little humor will come in time. But the new anchor doesn't seem to be in any big hurry on that front.