Former D-FW reporter Scott Pelley named next anchor of the CBS Evening News, replacing Katie Couric
05/03/11 09:51 AM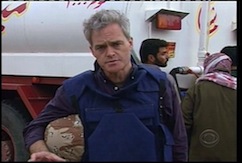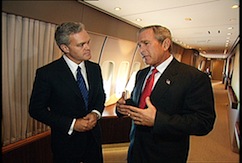 Scott Pelley in the field and with President Bush. CBS photos
By ED BARK
After a long, patient wait of more than two decades, Scott Pelley finally has the job he always envisioned for himself at CBS News.
On Tuesday, the network officially named him the new anchor of the
CBS Evening News
, effective June 6th. He will succeed Katie Couric after being passed over five years ago when CBS decided to spend big on a bet that she could take its flagship newscast out of third place. She never did. And after her five-year contract expires on June 4th, Couric is expected to return to daytime TV as a talk show host.
"Scott has it all," CBS News chairman Jeff Fager said of the San Antonio native, who worked in D-FW at both KXAS-TV (1978-'81) and WFAA-TV (1982-'89) before joining CBS at a time when Dan Rather helmed the
Evening News
. "He has the experience, the credibility and he is among the very best reporters ever to work at CBS News . . . We like to think of CBS News as the 'reporter's network' and I can't think of anybody in the business better suited for the anchor chair than Scott."
Pelley, 53, said in a statement that he is "delighted to join the terrific team at the
CBS Evening News
. It's a privilege to work alongside the most gifted and talented journalists in the industry."
Pelley, formerly CBS News' chief White House correspondent, has been with
60 Minutes
since 2004. On Sunday's telecast, he conducted the first interview with colleague Lara Logan since her brutal sexual assault in February at the hands of Egyptian thugs in Cairo's Tahrir Square.
In a 1997 interview with this reporter, Pelley said he is "genetically wired to do this kind of work. I love it. I get tense when I'm not on a big story. I get tense when I haven't been on the air in a reasonable period of time." (You can see more from this interview and a 2003 conversation by clicking on our
Back Channels page
.)
Pelley's zeal for the reporter's life and his sometime intense demeanor on-air are reminiscent of what Rather brought to the
Evening News
anchor chair. He also can be emotional, though, another trait of Rather's. Neither man could be accused of being "avuncular" in the mode of Walter Cronkite or current longtime CBS anchor/reporter Harry Smith, who regularly has subbed for Couric after being transferred from the ratings-starved CBS
Early Show
.
Pelley's first journalism job was as a 15-year-old copyboy at the
Lubbock Avalanche-Journal
. Before coming to D-FW, he worked at KSEL-TV in Lubbock. He attended journalism school at Texas Tech University, but did not graduate. Still, he is a member of the school's alumni Hall of Fame and is on the board of its School of Mass Communications.
His elevation to the
CBS Evening News
anchor chair makes him the network's fourth standardbearer with Texas ties, dating back to the Cronkite era. Rather and his successor, Bob Schieffer, are both native Texans. And Cronkite's family moved to Houston when he was 10. He eventually attended the University of Texas at Austin before dropping out in his junior year to become a newspaper reporter in the real world.
Pelley is married to former KXAS-TV reporter Jane Boone. They have two children, a son and a daughter.