Singing and slinging: Rosie vs. American Idol
03/07/07 05:17 PM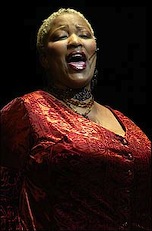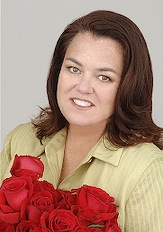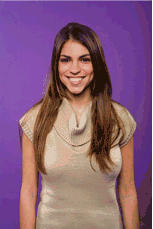 Idol imbroglio: Frenchie Davis, Rosie O'Donnell, Antonella Barba
By ED BARK
She never promised them a Rosie garden.
The View's
resident open mouth this time is attacking
American Idol
, which is attacking back.
The show's executive producer, Nigel Lythgoe, blistered O'Donnell in a statement Wednesday after she questioned why the show had booted previous contestant Frenchie Davis but not current hopeful
Antonella Barba
after nude photos of each emerged. Davis is black and very full-figured and Barba, 20, is a thin white girl. In O'Donnell's view, that's both "weight-ist" and "racist."
Lythgoe took offense. "Without wishing to add to the obvious self-promotion of Ms. O'Donnell, I feel as though I must refute her absurd and ridiculous claims that
American Idol
is racist and/or weight-ist," he said in an email to TV critics. "Ms. O'Donnell has, once again, spoken without thought or knowledge. Viewers need only look at the show tonight to realize that
American Idol
constantly confirms to America that talent has nothing to do with weight or color."
O'Donnell also told
View
viewers that
American Idol
is no longer giving the show access to clips. "They're apparently mad at us. When I say 'us,' I really mean me," she said.
Barba, who has been one of
Idol's
lesser semi-finalists in the judges' view, is scheduled to perform Wednesday night (March 7) before two men and two women are voted off on Thursday's results show. That will reduce the field to 12 finalists next week.
American Idol
never specifically disclosed why Davis was dumped in 2003. Still posing provocatively in her myspace
"photobucket,"
she's hardly fallen on hard times since being evicted. In fact, she's been co-starring in
Rent
on Broadway for the past four years.
So does O'Donnell have a point? Yes and no. Two of
Idol's
previous five winners have been black, with ultra-bulky Ruben Studdard triumphing in the same season that Davis got bounced. One of this season's top favorites, Lakisha Jones, is hardly svelte. Nor are two of the remaining guys, Chris Sligh and Sundance Head.
Still, it does raise the question of whether
Idol
producers might have acted differently were Barba less of a Barbie Doll. Then again, times change. It's four years later and who hasn't been a naughty girl or boy on their myspace page?
O'Donnell is still doing a great job of pumping up
The View's
ratings, even though grande dame Barbara Walters might need a sedative more often than she'd like. Meanwhile Donald Who continues to slip-slide away on
The Apprentice
after his famous feud with
The View's
foghorn. His ratings have sunk lower than
Entertainment Tonight's
still non-stop coverage of Anna Nicole Smith.
Idol
hardly needs any more free publicity, but this latest fracas won't hurt. Maybe they should just go ahead and sanction a pay-per-view jaw-off between O'Donnell and
Idol
judge Simon Cowell. Frenchie could referee.