CW adds three new fall series while outsourcing Sunday
05/13/08 06:11 PM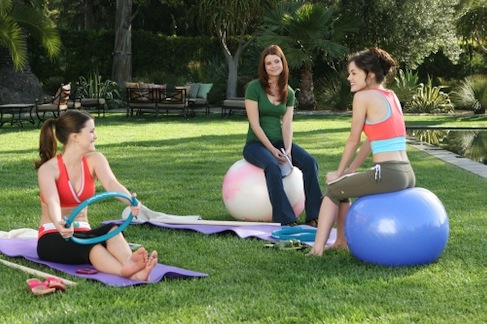 Presenting the nubile cast of The CW's Surviving the Filthy Rich.
By ED BARK
The CW, ink-a-dink-a-doo of the five English language broadcast networks, nonetheless will have one more new fall series than ABC.
But it's also subtracting a night -- Sunday -- and turning it over to Media Rights Capital, which will announce a separate schedule later.
One of CW's new dramas,
90210
, is billed as a "contemporary spin-off" of the old Fox series. It's also touted as "the most eagerly anticipated series of the fall," which it really isn't, but who cares?
TV vets Lori Loughlin and Jessica Walter will join a new cast of teens, with "guest star" Jennie Garth reprising her old character, Kelly Taylor, who's now a high school guidance counselor.
Also added is
Surviving the Filthy Rich
, starring JoAnna Garcia (
Reba
) as a Yale-educated journalism grad who finds herself "slaving away at a tabloid rag" until getting fired. So she junks the profession to become a live-in tutor to the twin teen granddaughters of a wealthy Palm Beach cosmetics mogul.
The third entry is
Stylista
, a new reality competition series being paired with the returning
America's Next Top Supermodel
. Eleven "fashion enthusiasts" fight for an editorial job at
Elle
, with the magazine's "fashion news director," Anne Slowey, cracking the satin whip.
Last year's critically praised
Reaper
will return, but not until midseason. Not in CW's current plans are
Beauty and the Geek, Girlfriends, Aliens in America
and
Friday Night Smackdown!
, whose producers couldn't reach a new deal with the network. Incredibly,
One Tree Hill
is still part of the schedule while the network's remaining comedies, headed by
Everybody Hates Chris
, get shuffled from Mondays to Fridays.
Here's the new fall lineup, with new series in boldface:
MONDAY
Gossip Girl
One Tree Hill
TUESDAY90210Surviving the Filthy RichWEDNESDAY
America's Next Top Model
StylistaTHURSDAY
Smallville
Supernatural
FRIDAY
Everybody Hates Chris
The Game
America's Next Top Model (repeats)