Simon/Davids: Idol rings out the 2007-'08 TV season with its seventh coronation
05/21/08 10:18 AM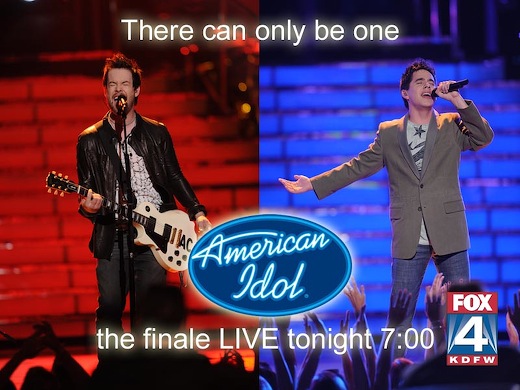 By ED BARK
But will they invite poor Taylor Hicks to their annual wrap party?
TV's strike-pocked 2007-'08 "regular season" officially shuts down Wednesday night with what's become the traditional last big bang from prime-time's No. 1 show.
Ratings are down roughly eight percent for this seventh season of Fox's
American Idol
. But it's still a Gulliver among mostly Lilliputians, with the two-hour finale likely to approach 30 million viewers nationally.
Vegas oddsmakers had made the more seasoned David Cook their favorite to win it all over pixie-ish David Archuleta. But judge Simon Cowell proclaimed li'l Davy the clear-cut winner of Tuesday night's three-song sing-off. So anything could happen -- except Hillary winning -- after all those post-show votes are counted.
Idol
's previous six champs have a checkered record, with inaugural winner Kelly Clarkson reigning as the show's biggest star until being eclipsed in the past year by fourth season queen Carrie Underwood.
Ruben Studdard, who prevailed in the second season, was invited to close out Tuesday's show. He's been dropped from his record label, though, as has fifth season champ Taylor Hicks. Alas, he's become
Idol
's resident non-person of late, shuffled to the bottom of the deck while that season's fourth-place finisher, Chris Daughtry, lights up the charts.
Hicks deserves better, and needs only the right record producer to prove it. But
Idol
's string-pullers generally have written him off as the show's one glaring "wrong" choice.
Third-season victor Fantasia Barrino also performed on
Idol
this month, leaving Cowell all agape at her flaming red hair and hip-hoppery. Otherwise she's been doing fine on Broadway. Jordin Sparks,
Idol
's reigning champ until 9 p.m. (central) Wednesday, has done OK so far with her recently released inaugural CD.
Idol
producers are promising a makeover for next season, although the show is hardly on life support. No matter who wins Wednesday, it's Cook, 25, who looks best able to cut a distinctive hit CD. Meanwhile, the 17-year-old Archuleta may have to follow in the squishy, mushy footsteps of the now faltering Clay Aiken.
Nothing's set in stone, though. Ask third-season
Idol
also-ran Jennifer Hudson, who came back out of nowhere to win an Oscar for
Dreamgirls
. She of course is welcome on
Idol
anytime. That's show biz.