CNN entitled to a St. Paul swagger
09/02/08 12:09 PM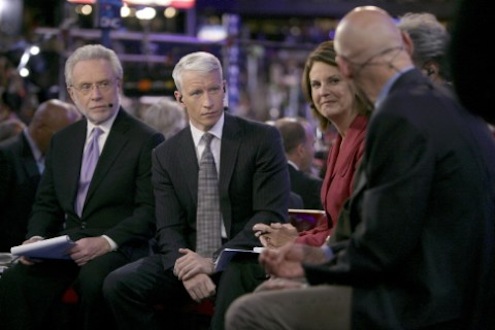 Wolf Blitzer, Anderson Cooper, Gloria Borger and the back of James Carville's head during CNN's coverage of the Democratic convention.
By ED BARK
Maybe Fox News Channel will rebound with big ratings for its coverage of the Republican convention, which is back on track after an opening night pause for Hurricane Gustav.
For now, though, CNN clearly is master of the cable news universe with a supposedly non-partisan, "all sides" of an issue approach that paid big dividends in Denver.
On Thursday's closing night, CNN went where it had never been before -- to the top of the national ratings heap among all news networks during Barack Obama's curtain-closing acceptance speech.
CNN drew 8.1 million viewers in the 9 to 10 p.m. (central) hour, with runnerup ABC News (6.6 million viewers) a surprisingly distant second. CNN also won easily among 25-to-54-year-olds, the main advertiser target audience for news programming.
CNN finished no worse than second on the three other nights of the Democratic convention, outdrawing CBS News throughout the week. FNC jolted the Big Three broadcast networks four years ago by outdrawing them on all four nights of the Republican convention.
That's a strong possibility in St. Paul as well, even though FNC's ratings for the Democratic convention showed the network falling to third place among cable networks in the key 25-to-54 demographic.
MSNBC was the No. 2 cable network among 25-to-54-year-olds for each of the four nights from Denver. And on Thursday's closing night, it came within an eyelash of beating FNC in total viewers, losing by a score of 4.2 million to 4.1 million.
CNN's 8.1 million viewers for Obama's speech doubled the crowd it drew four years ago for Democratic nominee John Kerry's finishing kick from Boston. MSNBC was up 88 percent in total viewers from the 2004 acceptance speech and FNC increased its overall audience by 63 percent, according to Nielsen Media Research.