R.I.P. James Arness (May 6, 1923 to June 3, 2011)
06/03/11 03:01 PM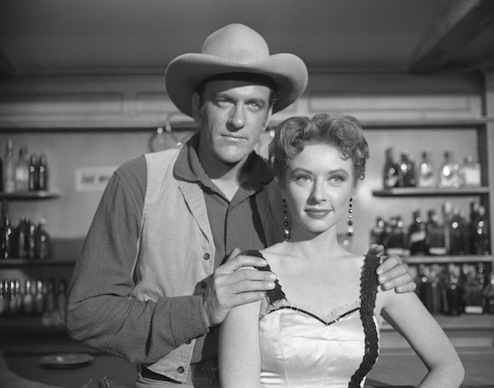 James Arness as Matt Dillon with Amanda Blake's "Miss Kitty."
By ED BARK
James Arness, who towered over the prime-time landscape for two decades as
Gunsmoke's
Marshal Matt Dillon, has died at the age of 88.
Dillon and "Miss Kitty" Russell (Amanda Blake), proprietor of Dodge City's Long Branch Saloon, had television's longest-running platonic relationship. She yearned to make it more than that, but Matt never quite succumbed.
Gunsmoke
, which ran from 1955-'75 on CBS, ranked as TV's most popular show from the 1957-'58 through the 1960-'61 seasons. It finished in prime-time's top 10 for 13 of its 20 seasons, with a resurgence in popularity during the late 1960s and early 1970s.
Gunsmoke
also helped launch the long-running careers of Dennis Weaver and Burt Reynolds, who respectively played limping deputy Chester Goode and blacksmith Quint Asper.
Arness was recommended for the role of Matt Dillon by John Wayne, who didn't want to do a weekly TV series.
Gunsmoke
was prime-time's last remaining western series when it left CBS in 1975. During its highest-rated season, 1957-'58, four other westerns joined it in the top 10. And another entry, the Ronald Reagan-hosted
General Electric Theater
, traded in cowboys and horses more often than not.
Arness, a native Minnesotan whose real surname was Aurness, received three Emmy nominations as Matt Dillon, but never won. But Weaver and fellow supporting actor Milburn Stone (who played Doc Adams), each took home one.
CBS made five
Gunsmoke
movies after the series was canceled, with Arness starring in all of them. He also played Jim Bowie in NBC's 1987
The Alamo: Thirteen Days to Glory
and reprised Wayne's original role of Thomas Dunston in TV's 1988 remake of
Red River
. Arness also went the contemporary route in NBC's
McClain's Law
, a short-lived 1981 crime series in which he played detective Jim McClain. He hadn't acted since 1994's last roundup as Dillon in
Gunsmoke: One Man's Justice
.
Arness' younger brother, Peter Graves (best known as agent Jim Phelps on TV's
Mission: Impossible
), died in March of last year at age 83.
Although he occasionally branched out, Arness' is indelibly linked to Matt Dillon in the same ways that the late Carroll O'Connor will always be Archie Bunker and the still kicking Larry Hagman is really no one other than J.R. Ewing of
Dallas
.
"I just sort of went along and a job would come up," he says in the brief video interview below. Maybe so. But in the annals of prime-time television, his boot print will always be deep and enduring.