Netflix's The Little Prince never stops short of wondrous
08/04/16 10:55 AM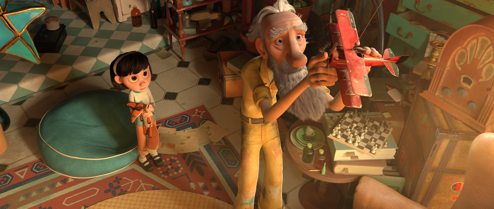 Mackenzie Foy, Jeff Bridges voice the principals in The Little Prince.
Neftlix photo
By ED BARK
@unclebarkycom on Twitter
Its ratings remain a closely guarded, unsolved mystery. And where all its money comes from is still anyone's guess.
In the end, though, it's the product that shines through. And Netflix has another beauty in
The Little Prince
, which
begins streaming on Friday, Aug. 5th
.
Originally scheduled for a March release in theaters, this adaptation of Antoine de Saint-Exupery's 1943 fantasy finds a home just in time to provide what the world needs now -- an inspiring, life-affirming diversion that has never grown old or sappy.
Beautifully and expressively animated,
The Little Prince
basically is the story of an old man who still acts like a kid and a kid who's being programmed to be an "essential" cog in the grand industrial, soul-deadening scheme of things.
Jeff Bridges and Mackenzie Foy respectively and endearingly voice "The Aviator" and "The Little Girl" while the title character is brought to life by director Mark Osborne's son, Riley. Explaining things much further is both a "spoiler" and a daunting endeavor. But
The Little Prince
most certainly does make sense as a deeper and more stimulating relative of
Peter Pan
. No one vows to never grow up. But what sort of grownup will you be?
The Little Girl's single mom (Rachel McAdams) is determined to get her daughter into Werth Academie, where the answer to "What will you be when you grow up?" is "Essential." Rejection sends the two of them to a square-blocked home that resembles almost all of the other neighborhood abodes. But this one's an affordable bargain, given its location right next to an eclectic and misshapen structure inhabited by Bridges' aging dreamer. It's a veritable Neverland both inside and out, but without anything creepy going on.
While mom's away at work, her daughter is assigned daily, timed tasks in the structured Werth mode. But the wonder kicks in when she ventures next door and becomes entranced by the old man's tale about first meeting the Little Prince as a young man after his plane crashed in the Sahara desert.
The Little Prince
is well-populated with familiar stars voicing supporting characters during a spinning tale of single-denizen planets and a hard-knocks real world. Among them are Ricky Gervais ("The Conceited Man"); Marion Cotillard ("The Rose"); James Franco ("The Fox); Paul Giamatti ("The Academy Teacher"); Benicio Del Toro ("The Snake"); and Albert Brooks ("The Businessman").
It all comes together in G-rated fashion suitable for viewers of all ages. There are no fart jokes or sexual double entendres. But as the story blooms and grows, there's enough action to keep young males and maybe even teenagers on board. "Look with your heart" is the overriding message.
Netflix, which recently scored with the
sci-fi drama Stranger Things
, has chosen a programming course that's anything but predictable. It goofs around with
Fuller House
; sets the "social media" world abuzz with a daring continuation of
Arrested Development
; heaps on the political skullduggery with
House of Cards
; goes comedic and tragic with
Orange is the New Black
; makes headlines with the true-crime documentary series
Making a Murderer
; and now rescues
The Little Prince
from the hands of Paramount's what-were-they-thinking brain trust after the studio dropped it.
Dare it be said that Netflix has become an indispensable part of the viewing universe? We're definitely nearing that point.
GRADE:
A
Email comments or questions to:
unclebarky@verizon.net