New series review: I Know My Kid's A Star (VH1)
03/19/08 02:13 PM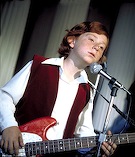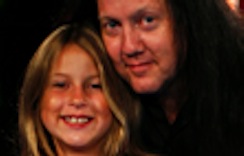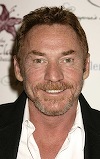 Danny Bonaduce before and after; Devon and Kevin of Rockwall
Premiering:
Thursday, March 20th at 9 p.m. (central) on VH1
Starring:
Danny Bonaduce and 10 "Hollywood-crazed parent/child teams," including Devon and Kevin of Rockwall, TX
Produced by:
Danny and Gretchen Bonaduce
By ED BARK
Ridiculous when it's not being reprehensible, VH1's eight-episode
I Know My Kid's A Star
reeks of exploitation, Danny Bonaduce, an execrable mom named Rocky and a kid spewing vomit in the early going.
In other words, all of the ingredients for a cable hit are firmly in place. So is the Rockwall, TX duo of dad Kevin and 10-year-old daughter, Devon. They're one of 10 parent-child teams vying for reality show chump change of $50 grand plus the right to be represented for a year by "a real bitch on wheels" named Marki Costello.
What a joke it is to think that Costello will devote any meaningful time to the winner. "Hey, kid, I got a good job for ya. My dog just crapped in our hot tub. Go scoop it up. That's it. You're on your way, kid. Now run down to the Circle K and get me a pack of smokes. And don't forget. Pauly Shore started this way."
It would help if any of these kids demonstrated even an ounce of actual talent during opening auditions on Thursday's one-hour premiere. But the singers prove dreadful and a couple of them are nearly paralyzed from both stage fright and parental pressure. The dancers are a joke, too. But no matter. This show clearly is built around the mostly deluded parents. And in that context, Rocky's the show's breakout banshee.
Botoxed, stretched, tattooed, scantily dressed and utterly unlikable from head to toe, Rocky's determined to turn nine-year-old daughter, Haley, into Hollywood's next comet. In one of the show's many tender parent-child vignettes, she tells the kid, "Please, please practice with me. What, my tampon's showing?"
Oh yeah, that'll definitely make the
The Soup
's weekly highlight reel. It's also a nice touch when one of the little girls pukes during opening introductions. Host Bonaduce then cracks, "Those of you who failed to vomit, it will not be held against you." Train wreck Danny's still got that boyish charm.
Kevin and Devon, to their great good fortune, don't get much camera time in Episode 1. Unfortunately for them, though, they'll be surviving until at least Episode 2. So there's ample opportunity for debasement and embarrassment.
Bonaduce, the in-and-out-of-rehab former
Partridge Family
kid, finds himself uniquely qualified to provide the "Hollywood-crazed parent/child teams" with what he affectionally calls "a serious reality check, Bonaduce style."
"More importantly," he adds, "the parents have to prove that they can keep their kid from winding up in rehab."
Actually, it's mostly the moms who could use padded cells.
Says one: "I'm gonna kill somebody on this show. And another: "The only way they're gonna get me outta this friggin' house is on a stretcher."
Meanwhile, the poor kids are either rebellious or veritable pull-string toys. Twelve-year-old Cameron seems to fall into the latter category.
"Why are you in acting?" his "admitted stage mom" Shari asks.
"For the chicks and the checks," he parrots.
Ugh, virtually everything about
I Know My Kid's A Star
seems dirty to the touch. Bonaduce keeps saying he's looking for "that 'It' factor," even though he clearly means to say "Ick."
It all leads to a weekly "Elimination Ceremony" in which Bonaduce punches a pair's ticket back to Paducah-ville. The first evictee's parent tries to comfort the kid, but is told, "I'm fine. Stop. Will you stop talking!"
That's right. Treat the poor slob like dirt. But everyone's gonna get what they deserve here.
I Know My Kid's A Star
may be the single-worst reality competition series in the history of the genre. Which shows that VH1 is really on its game.
Grade:
F