TNT's Franklin & Bash has a fun time with the law without exceeding the legal limit
06/01/11 01:21 AM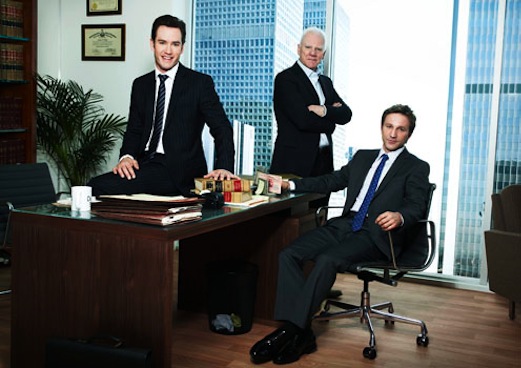 Mark-Paul Gosselaar, Malcolm McDowell and Breckin Meyer star in the appealingly breezy new legal drama Franklin & Bash. TNT photo
Premiering:
Wednesday, June 1st at 8 p.m. (central) on TNT
Starring:
Mark-Paul Gosselaar, Breckin Meyer, Malcolm McDowell, Reed Diamond, Dana Davis, Kumail Nanjiani, Garcelle Beauvais
Produced by:
Jamie Tarses, Jason Ensler, Kevin Falls, Bill Chais
By ED BARK
This is Mark-Paul Gosselaar's sixth co-starring role in a television series since
Saved By the Bell
-- and he's still only 37.
He's known the glory of
NYPD Blue
, the ignominy of
Hyperion Bay
and
D.C.
, and the shaggy hair of TNT's
Raising the Bar
, a 2008-'09 TNT legal drama in which he played crusading attorney Jerry Kellerman.
The network with the "We Know Drama" slogan also knows full well that Gosselaar remains a strikingly good-looking TV commodity who can carry the ball when called on. So here he is again as a lawyer in TNT's
Franklin & Bash
, a lively, quippy and broadly entertaining new series that premieres Wednesday night in tandem with the returning
Men of a Certain Age
.
Gosselaar has trimmed his locks, which remain almost criminally thick, to play the somewhat more grounded member of a hard-charging legal duo. He's Peter Bash to Breckin Meyer's freer wheeling Jared Franklin, son of a legendary trial lawyer.
"You're F. Lee Bailey meets Barnum & Bailey," Franklin is told by flamboyant legal potentate Infeld Daniels (Malcolm McDowell having a really good time). He's intent on recruiting both sides of him -- plus Bash -- for his high-powered L.A. law firm. Properly irked is Infeld's stuck-up nephew and law partner Damien Karp (Reed Diamond). It's a thankless task for any actor -- playing an uptight, imperious naysayer who's seen as a buffoon by the rascally new imports.
TNT has been bitten a bit by the FX bug, with
Franklin & Bash
pushing the new show's language and visuals into sometimes eyebrow-raising territory. Viewers are given a generous glimpse of Bash's bare, firm behind after he emerges from a hot tub. And Franklin gets to call Bash "scrotum face" for grins while also remarking on a "bitchy little barracuda" who nonetheless has "good movement in the lumber yard."
The elongated form of B.S. is also deployed. And in an eye-catching courtroom scene, the voluptuous star of a suggestive mattress ad strips down to her red bra as part of Bash's courtroom presentation while jiggling and touching her primary assets.
Franklin and Bash also employ two legal aides, sassy Carmen (Dana Davis) and agoraphobic/verminophobic Pindar (Kumail Nanjiani). And when not holding team meetings -- or holding forth in the courtroom -- the two stars regularly inhabit a junk food diner to compare what they'd do for the privilege of bedding a favorite female celeb.
Would Franklin, for instance, take a punch in the face from an in-his-prime Mike Tyson as the price for spending a night with Scarlett Johansson? They're still debating that one at the close of Wednesday's premiere hour. Actress Marisa Tomei's name also gets dropped -- in both the first and second episodes.
Next week's adventure, subtitled "She Came Upstair to Kill Me," centers on an actress accused of murdering her weak-hearted older husband by using nightly sex with him as her principal weapon of attack. Ubiquitous Fred Willard drops in to play the deceased's pal. For him it's a rare serio-comic turn instead of another exercise in full-blown farce. Willard kinda sorta pulls this off, but it's a struggle
Franklin & Bash
sometimes tries too hard to be edgy, suffering some paper cuts in the process. It's otherwise a good deal of fun delivered with an abundance of energy. Gosselaar and Meyer nicely play off one another, with McDowell a considerable bonus as their vain but supportive patriarch. So as law dramas go, this one makes a better case than expected. Even if the title sounds more like a wrestling team.
GRADE:
B