New series review: New Amsterdam (Fox)
03/03/08 03:16 PM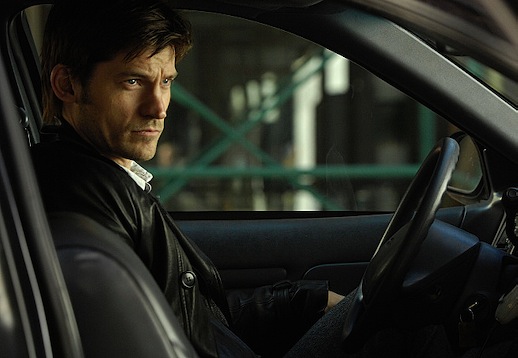 He looks great for 400, but Det. John Amsterdam still broods a lot.
Premiering:
Tuesday, March 4 at 8 p.m. (central) on Fox. Also on Thursday, March 6 at 8 p.m. before moving to regular Monday 8 p.m. slot.
Starring:
Nikolaj Coster-Waldau, Zuleikha Robinson, Stephen Henderson, Alexie Gilmore
Produced by:
David Manson, Allan Loeb, Lasse Hallstrom, Leslie Holleran, Steven Pearl
By ED BARK
Four hundred is the new thirtysomething on Fox's
New Amsterdam
, whose ageless hero has got a lot more living to do unless he finds true love.
Only then can he realize his lifelong dream of becoming physically decrepit and perhaps even logging a facelift or two before dying like the rest of us from cancer or something.
It sounds as though John Amsterdam (Nikolaj Coster-Waldau) should be careful what he wishes for. But the guy's already lived through the entire existence of New York City, let alone the mayoral term of David Dinkins. So he apparently needs a break from immortality.
The Big Apple was still New Amsterdam when little John made his debut on June 1, 1607. Thirty-five years later, as a Dutch soldier, he had a pointed experience with a sword while trying to save the life of a young Native American woman during an attack on her tribe.
The woman and a group of her friends then wove a healing spell over him, making Amsterdam immortal.
"You will not grow old. You will not die, until you find the one, and your souls are wed," he was told.
All of which makes
New Amsterdam
at least a kissing cousin of ABC's
Pushing Daisies
, but without its bright primary colors or whimsy.
Slotted for last fall until getting bumped by
Don't Forget the Lyrics!
, the show takes a very serious approach to both its weekly murder mysteries and unfolding mythology. The latter realm holds both promise and fascination, though, particularly in Thursday's second episode. That's when we learn the damndest thing about a sardonic 65-year-old jazz club owner named Omar (Stephen Henderson). Amsterdam makes it a point to look out for him, and for good reason it turns out.
Unfortunately, our hero is also a homicide detective. And his latest new partner, Eva Marquez (Zuleikha Robinson), of course finds him to be both disagreeable and somewhat mystical. Essentially the same cop shop dynamic is far better rendered on NBC's
Life
, which is done for this season but will be back in the fall.
New Amsterdam
's crimesolving, salted with some
CSI
gruesomeness, holds only a bit more interest than the show's less than clever narration.
"New York City," Amsterdam says for starters. "A beautiful catastrophe, someone once called it. I call it home."
He later throws out another clunker: "I've watched the world change. Best invention -- indoor plumbing. Worst invention -- the alarm clock."
Snooze. But the show's wakeup calls are its time travels, which on Thursday's second episode find Amsterdam in the year 1941. He was a well-to-do attorney then, and he went by the last name of York. For a while he even thought he'd found "The One." But of course it didn't quite work out, and not all of those cards are on the table yet.
Back in the present, Amsterdam is jacked by the possibility that a doctor who pronounced him dead in an emergency room in fact may be his long-sought soulmate. Those messy murder cases keep diverting him, but by the end of Episode 2 he finally has her name.
Fox's first impulse was to shelve
New Amsterdam
. But now the series is getting two prime post-
American Idol
berths before it's sent off to Mondays.
The star's Hugh Jackman-calibre good looks and an intriguing, expandable premise may be enough to attract and keep a nice-sized audience. If not, prime-time's only 400-year-old hunk can keep watching Macy's Thanksgiving Day parades on his own time.
Grade:
C+