New series review -- Frank TV (TBS)
11/19/07 03:34 PM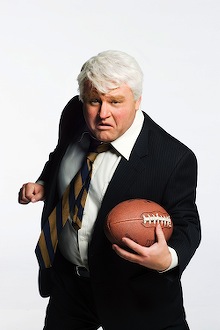 Premiering:
Tuesday, Nov. 20th, at 9 p.m. (central) on TBS
Starring:
Frank Caliendo
Produced by:
Frank Caliendo, Matt Wickline, John Bowman, Barry Katz
By ED BARK
Your first impression of Frank Caliendo is bound to be, "Hey, that's the guy who does John Madden."
Boom! You'd be right. And the sendup that put Caliendo on the map has now made him the star of TBS'
Frank TV
. Five of the eight ordered episodes reportedly were completed before the ongoing writers' strike waylaid production.
"I feel like a little kid who just got a TV show for Christmas," he says for starters.
Caliendo reprises Madden (preparing a holiday "Turducken," of course) and throws in 11 other impressions during Tuesday's half-hour premiere, subtitled "Franksgiving." He also includes an ad hoc guest host from the studio audience, proving that Caliendo's a regular guy as well. But the device is awkward at best, as are the star's repeated introductions of himself starring in the show's succession of sketches.
Some of his additional targets are the usual suspects -- Bill Clinton, George W. Bush, Dick Cheney, even Jerry Seinfeld. But Caliendo doesn't stop just with Seinfeld. He does an entire 2027
Seinfeld
reunion, including Elaine Benes. The latter is more sight gag than mimic, with the portly Caliendo in drag.
"TV adds 10 pounds," he then tells the audience. "And I add another 40."
Caliendo's Bill Clinton conducts a tour of his presidential library, complete with a stop at a Hooters-like wings and beer joint. "Clinton" also strolls past wall hangings of Monica Lewinsky, Gennifer Flowers and Janet Reno. The latter assignation, he laments, was the result of "too many jacks and cokes."
That's very dog-eared stuff by now. As is a sketch that features George W. Bush as an ineffectual father of the bride, namely his daughter, Jenna. An all-business Dick Cheney instead is brought in to do the pre-nup pep talk. It's stern and creepy, of course, with Cheney predicting "darkness and silent weeping" on the wedding night.
A "Caliendo Squares" bit features only Charles Barkley, with the host mastering him to a T. Few even try to do "Sir Charles." Caliendo makes him his own.
Next Tuesday's episode -- "Money in the Frank" -- begins with Caliendo's version of Jack Nicholson in boxer shorts. It goes on too long, but Caliendo recovers nicely by doing Donald Trump at one of his rip-off financial seminars. Step 1 toward attaining wealth: "Make sure your father is rich."
A guest co-host named Jessica at least has a little dish. She tells Caliendo that the real-life Paris Hilton once tried to bum a cigarette from her in the Hollywood Roosevelt Hotel restroom.
Another George W. sketch follows. This time the befuddled president addresses the country on "our relationship" and pours it a glass of wine. The country eventually responds by throwing it in his face.
Caliendo also brings in Al Pacino and Robert De Niro as hosts of an
At the Movies
-esque show titled
Go Or Don't Go
. His Pacino is oddly high-pitched but De Niro is better rendered. We close with a fake Sean Connery doing a commercial on behalf of his "Voice Club For Men."
"If my voice can't get you laid, there must be something desperately wrong with you," he says.
Frank
obviously isn't heavy lifting, and it clicks just enough to get by. Its star also is likable as himself, making it easy for the audience to root for the best when he goes into character.
You wonder how long this show could go on, though. Rather than an amateur guest host, why not deploy fellow impressionists to play along with Caliendo? As a virtual one-man show he risks spreading himself way too thin.
Grade
: C+