30 Rock, Mad Men, John Adams set the pace for prime-time Emmys
07/17/08 08:03 AM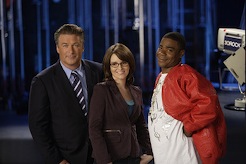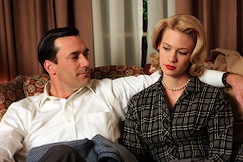 The men and women of NBC's 30 Rock and AMC's Mad Men
By ED BARK
30 Rock
sent a single season record for comedy nods,
Mad Men
led the drama series contenders and HBO as usual dominated the movie and miniseries categories in nominations announced Thursday for the
60th annual prime-time Emmy Awards
.
The Tina Fey-led NBC sitcom, which won last year's Emmy, amassed 17 nominations to break the record of 16 set in 1997 by HBO's
The Larry Sanders Show
.
Its competition for best comedy series is from NBC's
The Office
, CBS'
Two and a Half Men
, and HBO's
Entourage
and
Curb Your Enthusiasm
. All four have previous nominations in this category.
Notably left out: ABC's
Samantha Who?
and
Pushing Daisies
. The latter series did have 12 nominations, though, including a best actor nod for star Lee Pace.
Samantha
's star, Christina Applegate, is a best actress nominee.
Mad Men
, AMC's hard-smoking depiction of the 1960s Madison Avenue ad agency scene, totaled an impressive 16 nominations for its inaugural season. The record is 27 by ABC's
NYPD Blue
in 1994.
Emmy voters picked six rather than the usual five drama series contenders. Joining
Mad Men
are fellow first-time nominees
Damages
(FX) and
Dexter
(Showtime), plus previous contenders
Lost
(ABC),
Boston Legal
(ABC) and
House
(Fox). Both
Mad Men
and
Damages
are on advertiser-supported "basic" cable networks, marking the first time that's happened in the best drama series competition.
HBO's
The Sopranos
won in this category last year. Notably left out: HBO's much-praised
The Wire
in its final season. It was rebuffed with just a single nomination, for writing.
NBC's made-in-Austin
Friday Night Lights
also got sacked again. Its lone nomination is for "Outstanding Special Class -- Short Format Live-Action Entertainment Program." How humiliating.
Both
The Wire
and
Lights
have won Peabody Awards, though. So bluntly put, screw the Emmys.
Meanwhile, the HBO miniseries
John Adams
led all programs with 23 nominations, and is a lock to win as the best in this category in competition with Sci Fi Channel's
Tin Man
, A&E's
The Andromeda Strain
and PBS'
Cranford
. The all-time record holder for miniseries nods in a single season is ABC's
Roots
, with a likely never to be beaten 37 in 1977.
HBO also has the lion's share of best made-for-TV movie contenders, with
Recount, Bernard and Doris
and
Extras: The Extra Special Series Finale
totaling 27 nominations. The other nominees are ABC's exemplary
A Raisin In The Sun
, which might well win, and Lifetime's
The Memory Keeper's Daughter
, which is just filling out the field.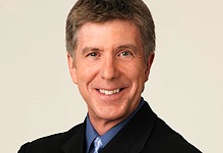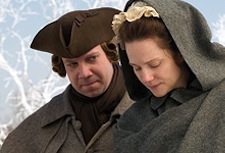 Ace host Tom Bergeron and actors Paul Giamatti, Laura Linney
A new Emmy category, "Outstanding Host for a Reality or Reality-Competition Program," is populated by Tom Bergeron (the likely winner for
ABC's Dancing with the Stars
); Heidi Klum (Bravo's
Project Runway
); Howie Mandel (NBC's
Deal or No Deal
); Jeff Probst (CBS'
Survivor
) and Ryan Seacrest (Fox's
American Idol
).
EMMY ODDS AND ENDS***
The "Outstanding Lead Actress in a Drama Series" competition has four previous Emmy winners in Glenn Close (
Damages
), Sally Field (ABC's
Brothers & Sisters
), Mariska Hargitay (NBC's
Law & Order: Special Victims Unit
) and Holly Hunter (TNT's
Saving Grace
). That leaves Kyra Sedgwick of TNT's
The Closer
as the category's lone virgin. She also was nominated the previous two seasons, but lost to Hargitay and Field.
***
In contrast, just one nominee in the "Outstanding Lead Actor in a Drama Series" division has an Emmy in hand. That's James Spader, who's already won all three times he's been nominated for
Boston Legal
. Rounding out the field are first-time nominees Jon Hamm (
Mad Men
) and Gabriel Byrne (HBO's
In Treatment
), plus previous contenders Michael C. Hall (
Dexter
) and Hugh Laurie (
House
).
***
Ricky Gervais, a nominee for "Outstanding Lead Actor in a Miniseries or a Movie," is the only contender with a previous Emmy win. But all of his competitors have either won Oscars or been nominated for them. Kevin Spacey (
Recount
) has two Academy Awards on his mantle; Paul Giamatti (
John Adams
), Ralph Fiennes (
Bernard and Doris
), and Tom Wilkinson (
Recount
) all have experienced the agony of defeat on Oscar night.
***
Among this year's acting nominees, Charles Durning has the longest losing streak. He's 0 for 8 so far, but gets another shot for his supporting role on FX's
Rescue Me
. Also hoping to break a prolonged drought is Alec Baldwin (
30 Rock
), who's 0 for 6.
At the other end of Emmy's teeter-totter, Candice Bergen has won five of the eight times she's been nominated, and eventually took her name out of the running during her starring days on
Murphy Brown
. Now she's back with a supporting actress nod for
Boston Legal
. Don't bet against her.
***
HBO as usual led all networks Thursday with 85 nominations, one less than last year. It had strong competition, though, from ABC, whose 76 nominations were six more than last year. Other networks with 20 or more nominations are CBS (51), NBC (50), PBS (33), Fox (28), Showtime (21) and AMC (20).
***
The prime-time Emmy awards ceremony is Sept. 21 on ABC.