CBS' Flashpoint not your typical summertime dim bulb
07/11/08 12:00 PM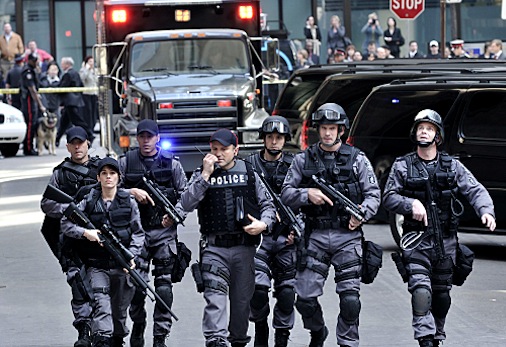 Premiering:
Friday, July 11th, at 9 p.m. (central) on CBS
Starring:
Enrico Colantoni, Hugh Dillon, Amy Jo Johnson, David Paetkau, Michael Cram, Sergio Di Zio, ruth Marshall, Philip akin, Lisa Marcos, Mark Taylor
Created by:
Mark Ellis, Stephanie Morgenstern
By ED BARK
Taut and often quite terrific, CBS'
Flashpoint
is that very rare new summer series that won't make you want to shower off all that guilty pleasure residue.
Even rarer, it's scripted and actually uses actors. Oh. My. God.
Filmed in Toronto, created by Canadians and detailing the adventures of the SWAT-like Strategic Response Unit,
Flashpoint
at first seems like another typically overwrought hour of crime-goosed action.
Its first scene is a tight shot of a bulgy, wild-eyed foreigner holding a blonde-haired woman hostage at gunpoint. Civilians gawk and gasp behind police lines while SRU sergeant Gregory Parker (Enrico Colantoni from
Veronica Mars
) tries to talk him down. Then comes a relatively brief flashback that both shows how the assailant got there and introduces SRC member Ed Lane (Hugh Dillon), who's got a cute son, a cuter wife and apparently some commitment problems.
Lane turns out to be the unit's crack sniper. And without coughing up too much,
Flashpoint
really starts to work after it gets past the standoff. Let's just say that Lane is haunted by his occupation and regularly dogged by internal investigators. And Dillon plays him very, very well. He also resembles a younger,
L.A. Law
era Corbin Bernsen, but with the hair already outta here.
In this premiere episode at least, which will replace a
Numb3rs
rerun, we learn next to nothing about the featured criminal. He has a caring son, and apparently had a wife, but is otherwise an empty vessel. It would have helped to make him more human.
The stories of various SRC members clearly are going to be fleshed out, though. And it looks as though they'll be worth knowing. For now at least, Lane is a very intriguing head case, Parker's a sturdy team leader, Jules Callaghan (Amy Jo Johnson) knows she's cute and Sam Braddock (David Paetkau) has the assignment of hunky newcomer.
Also of note are the solid production values and music that enhances rather than intrudes, especially at the end. Canadians know how to do this stuff, and
Flashpoint
has, oh, about one zillion times more texture and heft than ABC's ongoing
I Survived a Japanese Game Show
.
Grade:
B+