New series review: The Return of Jezebel James (Fox)
03/13/08 11:26 AM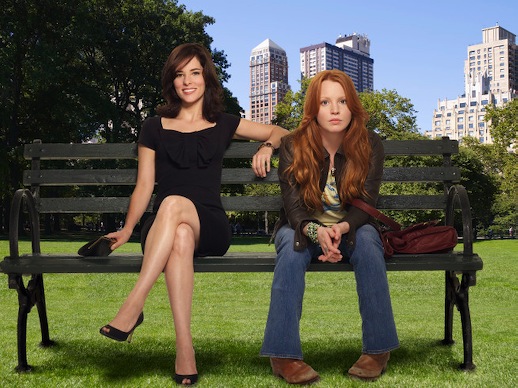 At least the Fox artwork is nice for The Return of Jezebel James.
Premiering:
Friday, March 14th at 7 p.m. (central) with back-to-back episodes on Fox
Starring:
Parker Posey, Lauren Ambrose, Scott Cohen, Michael Arden, Ron McLarty, Jack Carpenter
Produced by:
Amy Sherman-Palladino, Daniel Palladino
By ED BARK
Initially slotted for a post-
American Idol
launch, Fox's
The Return of Jezebel James
instead gets sent to the network's Friday night outhouse.
As votes of confidence go, that's barely a hanging chad.
The half-hour comedy, complete with unwarranted laugh track, is from
Gilmore Girls
creator Amy Sherman-Palladino. She's segued from a snippy mother-daughter duo to a warring big sis-little sis combo. Any charm and appeal are out to lunch this time, though. The show is quickly out of ammunition despite Palladino's still unquenched penchant for rapid-fire dialogue.
Lead character Sarah Tompkins (Parker Posey) is a gratingly discombobulated children's book editor who's long been estranged from rebellious sibling Coco (Lauren Ambrose from
Six Feet Under
). But they're reunited, fractiously of course, after Sarah learns she can't get pregnant.
With insemination no longer an option, Sarah turns to Coco as a surrogate. Or as she puts it, "Coco, I need your uterus." As if there's any way this series will be carried to term.
Perhaps you're wondering where Jezebel James comes in. Well, that's the name of Coco's imaginary childhood friend, and Sarah has it to front a series of popular children's books.
This of course disarms the otherwise disagreeable Coco, who's living in a dump while her sister luxuriates in a dreamy Manhattan apartment. By the end of Friday's first of two episodes, Coco shows up at Sarah's workplace to the tune of "Here Comes the Sun." Where's a total eclipse when we need one?
Episode 2's centerpiece is a shouting match between the two sisters at a "surrogacy" lawyer's office.
"I want it in writing that if this baby comes out buck-toothed with crossed eyes, she's not gonna stick me with it," Coco rages.
Sarah replies that she likes "ugly" babies with the caveat that they can be easily fixed. Ugh.
Supporting characters include Sarah's very bland, no-strings-attached boyfriend Marcus (Scott Cohen) and Coco's equally uninteresting slacker boy toy Dash (Jack Carpenter).
Sarah is dense enough to tell Marcus at dinner that raising a baby on her own will have no impact at all on their relationship.
He responds by ordering 12 glasses of red wine, which a waiter actually delivers without question.
Expect
Jezebel James
to be gone, baby, gone faster than Fox programmers can say, "Let's plug in a
House
rerun.
Grade:
D