New series review: Robin Hood (BBC America)
03/02/07 04:53 PM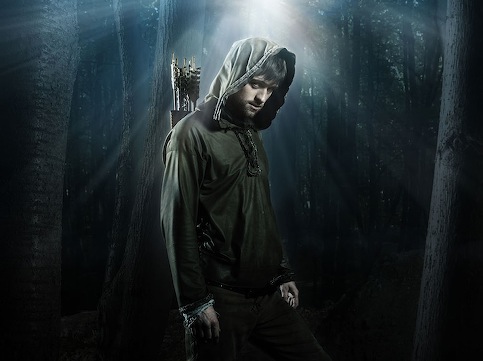 Jonas Armstrong stars as "A Different Kind of Hood."
Premiering:
Saturday (March 3) at 8 p.m. central time on BBC America
Starring:
Jonas Armstrong, Lucy Griffiths, Keith Allen, Richard Armitage, Sam Troughgton, Gordon Kennedy, Harry Lloyd, Joe Armstrong
Produced by:
Dominic Minghella, Foz Allan
By ED BARK
'Tis little so thrilling as the pfffffft of a speeding arrow.
And who better to let it loose than fabled Robin Hood, previously played by the likes of Errol Flynn, Douglas Fairbanks, Sean Connery, Kevin Costner, John Cleese, Richard Greene and even Rich Little.
Now comes newcomer Jonas Armstrong as a hooded "different kind of Hood" in BBC America's new 13-episode
Robin Hood
series. Premiering Saturday at 8 p.m. central time, it's passably good for openers.
Freshly returned from the king's crusades, Robin is ready to be Earl of Huntington and Lord of Locksley Manor. But as you may have heard, there've been some despotic changes made by the Sheriff of Nottingham (Keith Allen) and his head henchman, Guy of Gisborne (Richard Armitage).
Our hero also must endure the zings and arrows of Maid Marian (Lucy Griffiths), who's first seen drawing a bow on him. But he's still quite taken with her, even if ye olde Robin Hood pickup lines aren't reeling Marian in just yet.
"You can see into my soul," he rhapsodizes after raving about her eyes.
"Five years, and you're still peddling the same old drivel," she retorts before later telling him to "grow up."
Still, she helps him pull off the first episode's great, grandiose escape, after which Robin and his yet to be defined merry men head off into Sherwood Forest.
Frankly, this Robin looks a little too slight and smallish to be both a leader of men and the hardened warrior he's supposedly become. Imagine Dominic Monaghan (Britisher Charlie Pace of
Lost
) playing the title role. Same difference. You need a bit more of a command presence to be this bloke, although maybe Armstrong will start to measure up in time.
Griffiths' Marian looks like a pistol, though, even if that weapon hadn't been invented yet. And Allen brings an agreeably eccentric bent to the Sheriff of Nottingham role.
The first episode also has a beside-the-point swordfight between Robin and the angry father of an awesomely endowed lass who's eager to see his shaft. The accompanying music and slo-mo photography are a bit overdone at times. So is Robin's hasty exit, via a reverse double somersault.
Robin is, of course, supposed to be having fun while also living dangerously. So the premiere tries bloody well hard to have it both ways -- all without spilling even a drop of blood. It's not exactly scintillating, and one wonders whether the producers will be able to see the forest for the trees.
Guess we'll cross that log bridge when we come to it.
Grade:
B-minus