Couric joins ABC, which will give her both a daytime talk show and visibility on various news programs
06/06/11 12:26 PM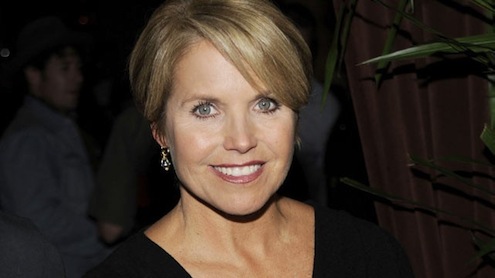 Katie Couric makes another multi-million dollar deal. ABC photo
By ED BARK
As expected, Katie Couric is taking her talents to ABC, where she'll host a new daytime talk show scheduled to premiere in September 2012 and co-produced by her old NBC boss.
ABC made the announcement of her "multi-platform deal" Monday, with news president Ben Sherwood touting himself as a pal of Couric's for 14 years in a memorandum to staffers. "Even with all of her success, I'm confident that her best days, biggest scoops and most powerful journalism lie directly ahead," he said.
Her success story hit a rut at CBS, where she achieved a first while remaining last in the dinner hour network news ratings race. Couric left a long and profitable co-host position at NBC's
Today
show to become the first woman to solo anchor a broadcast network's flagship newscast. But the
CBS Evening News
remained in a ratings ditch throughout her five-year tenure, trailing the
NBC Nightly News
with Brian Williams and ABC's
World News
, now helmed by Diane Sawyer after Couric initially went into battle against Charles Gibson.
Couric's new job was made official on the same that Scott Pelley is set to replace her as anchor of the
Evening News
. Couric also will contribute to various ABC News programs as "the ultimate utility player," in Sherwood's words. Her daytime talker already has been cleared in the post-Oprah landscape by ABC's eight owned-and-operated stations, where it will air at 3 p.m. weekdays, the network said. Those stations, led by New York, Los Angeles and Chicago, cover nearly 23 percent of the country's TV households.
In Dallas-Fort Worth, ABC affiliate WFAA8 appears to be the prime candidate to house Couric's as yet untitled new show. The station will begin going Oprah-less in September with a planned 3 to 5 p.m. lineup of the new Anderson Cooper talk program followed by
Dr. Oz
.
Couric began her TV news career in 1979 as a desk assistant at ABC, which both she and Sherwood noted Monday. Her new syndicated show, to be distributed by Disney/ABC Domestic Television, will be produced by Couric and Jeff Zucker. He's the former
Today
producer and NBC Universal chairman who was bounced after Comcast officially took ownership of the Peacock this year.
"It was a blast working with Katie at
Today
and I'm excited to do it again," Zucker said in a publicity release. "And besides, it should be more fun spending time with Katie at 3 or 4 in the afternoon than at 3 or 4 in the morning."
Couric, 54, is "one of television's iconic figures," Disney/ABC Television Group president Anne Sweeney said. In her companion statement, Couric bypassed any descriptions of herself as a "utility player." She instead lauded the "creative freedom" ABC has provided her while also welcoming her contributions to a "vibrant, innovative news division."
"I can't wait to be part of this incredibly talented, visionary team," Couric said.
So far she's batted .500 in her two previous high-profile assignments at NBC and CBS. Couric's third time at bat as a star player will be closely watched in media circles. But will enough viewers also partake?
It's very much an open question with an interesting historical backdrop. Jane Pauley, who also was a
Today
star, went the daytime talk route in 2004 with
The Jane Pauley Show
. It was canceled after a single season, with Pauley pretty much dropping out of sight in the years since.