Dan Rather: Re-starting from scratch
11/13/06 04:59 PM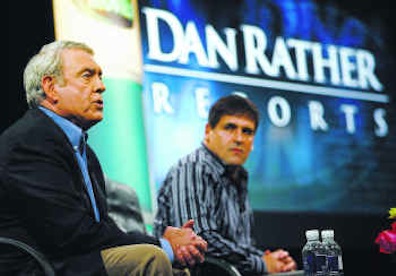 Dan Rather and Mark Cuban unveiled their new partnership in July to a full house of skeptical but intrigued TV critics. AP photo
By ED BARK
Missing in action since June, here comes Dan Rather to a television screen and a network that most Americans don't yet have in their homes
His Tuesday night debut, as "host and global correspondent" of HDNet's
Dan Rather Reports
, is both a milestone and possibly a millstone. Does the 75-year-old former CBS News standardbearer have an audible last hurrah left in him? Or, try as he might, will he go quietly into the night on a still wee network that Dallas Mavericks owner Mark Cuban launched in 2001?
"It's liberating, interesting, exciting and pretty daunting," Rather says in a telephone interview Monday with unclebarky.com. "I have no illusions about this. We knew when we started that we're going to be climbing a pretty high mountain. And all the climbing will be up the north face."
HDNet reaches about four million homes nationally, many of them via satellite on either the DirectTV or Dish networks. It's still not a part of Time Warner's sprawling cable menu in Cuban's hometown of Dallas. Rather's new venture, which will detail him in high-definition for his first time, has the added burden of premiering opposite Tuesday night's performance finale of ABC's
Dancing with the Stars
(7 p.m. central, 8 eastern). Still, he admits to "some opening night jitters," even though most of the first one-hour program already is in the can.
"This may be the longest sustained period that I've been off the air in, whew, maybe ever," Rather says. "But I haven't missed the daily broadcast and being on the air as much as I thought I would. I do miss the people, the camaraderie of the newsroom. I've never kidded myself. Everything in television is very ephemeral. But I've still got a chance to have my best work still ahead of me when my feet hit the floor every morning. So I'm usually giving thanks for just one more day of doing it."
Those last two sentences long have been his mantra. Stained and steeled by the "Memogate" debacle, he's forever hard-wired to a newsman's life. And others from the old days will still march beside him, including former CBS News veterans Janice Tomlin, Dana Roberson, Toby Wertheim and David Small. They and ex-ABC News editor Sarah Josephson are all part of his
Dan Rather Reports
staff.
They've finally decided on the show's opening story after "working on a number of projects simultaneously," Rather says. It will be a long, hard look at the psychological and physical wounds suffered by returning veterans from Iraq and Afghanistan.
"There's a problem that many don't seem to want to face," he contends. "Many of these troops will require sustained and acute health care for a long, long while. And the question is, 'How to pay for that?' "
Rather plans to open most of his programs from "somewhere in the field," which he regularly did as the "mobile anchor" of the
CBS Evening News
.
"Strange as it may seem to you, I don't have an anchor desk," he says. "Nor for that matter do I really want one. We've got a small studio set up in Manhattan but I hope it'll gather cobwebs."
Rather lost a good friend and former
60 Minutes
colleague Thursday when Ed Bradley died of leukemia. He wasn't included in Sunday night's
60 Minutes
tribute to Bradley. CBSNews.com didn't solicit his thoughts either as part of its voluminous sendoff. If it's a sore spot, Rather won't talk about it. But he does want to say this:
"Ed was a great pro, but I think what's missing in some of these well-deserved salutes is he was a great person, too. He had tremendous integrity, honesty, loyalty and character. He stood by and stood up for his friends. And he gave a lot back to his country and his community, much of which has never been publicized. He deserves a lot of credit for being a pathfinder. But all Ed ever asked was to let him work, and to judge him on the basis of that."
Rather risks being judged on the basis of the one story that took him out -- a campaign 2004 investigation that questioned the length and depth of President Bush's Texas Air National Guard service.
He simply doesn't want to talk about it anymore. Rather's next mountains are 42 weekly news hours a year under the terms of a three-year contract with Cuban.
"I don't have any corporate constraints now," he says. "Mark Cuban has been tremendous to me. He's given me total, complete and absolute editorial control, and he's written that into the contract. All he's asked for in return is that I be as fearless as I can be."
Whether anyone will notice is anybody's guess.