Review: Directed by John Ford (Turner Classic Movies)
11/06/06 09:58 PM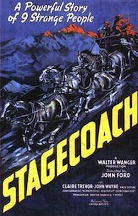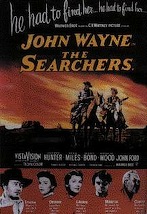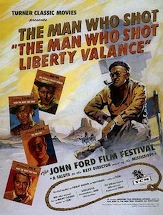 By ED BARK
Ford had a better idea. All you had to do was ask him.
Hard-driving director John Ford tended to treat famous actors like children. They were, after all, playing in his sandboxes. And he mostly had an unerring eye for showing us a good time on screen after first showing his hired hands who was boss.
"With Ford it's not a relaxed set at all," recalls the late James Stewart. "There's tension every place. Everybody's on edge."
Turner Classic Movies' brilliantly restored and updated
Directed by John Ford
plays as fluidly as any of his films. The final word on my notepad is a capital-lettered "STUPENDOUS!" And actually, that's faint praise.
Premiering Tuesday, Nov. 7th (7 p.m. central, 8 eastern), the two-hour documentary combines the best of Peter Bogdanovich's 1971 work with valuable new interviews and perspectives. So on the one hand we get great anecdotal remembrances from Stewart, John Wayne, Henry Fonda and, to a degree, from Ford himself. We're also party to fresh evaluations from some of today's directorial giants, including Steven Spielberg, Martin Scorsese and Clint Eastwood.
Here's one example of how very good this film is. Scorsese vividly remembers a scene from one of Ford's lesser films, 1961's
Two Rode Together
. It was an extended, riverbank conversation between characters played by Stewart and Richard Widmark. Their natural give-and-take made a huge impression on him, Scorsese says. Then we see exactly what he's talking about, and not via a snippet. Bogdanovich lets the scene play out, and it's a marvel that the two actors carried it off in just one take. Ford always preferred it that way. Don't let your actors get tired. Encourage them to get it right the first time, and put them in the right frame of mind by sometimes playing mind games with them.
"He was not influenced by a politically correct generation that we live in today," says Eastwood. "He could go flat out ... Ford was afraid of nothing."
The clips are magnificently chosen, with occasional narration from Orson Welles. Ford won four directing Oscars, a record still unmatched, for
The Informer, The Grapes of Wrath, How Green Was My Valley
and
The Quiet Man
. Clearly he also should have won for
The Searchers
, in which Wayne commanded the screen as the embittered Ethan Edwards.
Ford's westerns, shot in majestic Monument Valley, are still unmatched cinematically. Simply put, the man knew what he was doing. Says Scorsese: "There's a sense of no matter where that camera was placed, it was the best position. It was the right position. It was the position of poetry."
He died in 1973, and the documentary includes revealing audio from a near-death conversation with Katharine Hepburn, with whom Ford had an affair before she segued to Spencer Tracy. It's a warm talk between two old friends who know how their games are played.
Directed by John Ford
fully captures the man and the screen legends who willingly became his minions.
Above all, actors wanted to please him, Stewart says. Mission accomplished -- over and over again.
Grade:
A