Tell a friend: VH1's telenovela competition is juice-a-licious
04/11/08 03:52 PM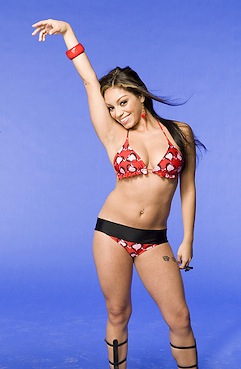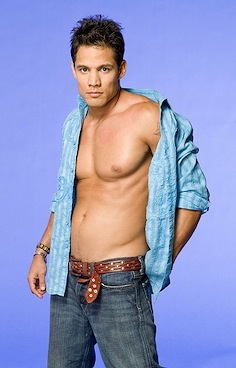 Havin' a heat wave: Jenn and Alexcy of VH1's Viva Hollywood!
Title:
Viva Hollywood!
Premiering:
Sunday, April 13 at 9:30 p.m. (central) on VH1
Starring:
A dozen would-be telenovela stars
Hosted by:
Carlos Ponce, Maria Conchita Alonso
Produced by:
Fenton Bailey, Randy Barbato, Tom Campbell, Danny Salles
By ED BARK
Here it comes, the guiltiest pleasure of the TV season. By far. Sorry,
Flavor of Love
.
VH1's
Viva Hollywood!
, premiering Sunday with a special 90-minute blast, knows just how seriously to take itself. Which means that it doesn't -- not even for a minute -- as 12 flesh-baring, egocentric "hot mamis" and "hot papis" convene at the show's "Casa De Locos" in hopes of mastering the "7 Deadly Sins of Telenovelas" in pursuit of
mucho dinero
($100 grand) and a "breakout role" on one of Telemundo's upcoming sudsers. Towel me off!
Contestant Vinci Alonso, presumably no relation to co-host Maria Conchita Alonso, quickly adapts to his new surroundings.
"If you run away from me, I'll catch you," he boasts. "I'll hunt you and eat you."
Your vigilant reviewer thinks it was Vinci briefly checking out his underwear-covered balls after supposedly drinking a whole bottle of vodka on the jacuzzi-soaked, liquor-fueled night before the first day's competition. Acting out the mood-setting Deadly Sin of Passion, contestants are required to test their skills at bitch-slapping, drink-tossing, hair-pulling, etc.
Muy bueno
.
The worst at each Deadly Sin is marked for elimination. The others then decide who should oppose that person in a climactic "Duel" presided over by a champagne-swigging Alonso, co-host Carlos Ponce and, on the first episode, a stuntman.
A
Big Brother
-esque "confessional" isn't nearly up to
Viva Hollywood!
's standards. Instead, contestants parade into the show's most "sacred place," says an unbilled narrator. That would be "The Chapel," where vigil lights dominate the decor and "Death Cards" are deployed to help settle scores.
"May God be with you," says one male cad after playing his card next to a picture of a female rival he wants to see gone.
Also featured is "internationally renowned astrologer and psychic" Walter Mercado, a man who looks like a woman and speaks to contestants through a picture frame. It's his duty to introduce the weekly Deadly Sin, at which he's very good -- and creepy. After Passion, it's going to be Lust, Vanity, Drama, Fire, Seduction and Scandal.
Then in Episode 8, "The Finale," guest star Cheech Marin will preside over a "Duel Spectacular" after Maria Conchita performs her hit song "La Loca" while surrounded by Brazilian fan dancers.
She seems to have the perfect attitude for
Viva Hollywood!
, declaring during opening night deliberations that "there are many bitches around that are big stars."
By the way, each week's evictee passes away -- not literally at this point -- in a heart-rending "over-the-top telenova death scene." On Sunday, watch the two last-gasp combatants tumble down a flight of stairs in "La Massacre de la Mascara." One will remain motionless.
Vaya con Dios
.
Grade:
B