Leno's lame duck clock officially ticking to finish line (updated)
07/21/08 03:20 PM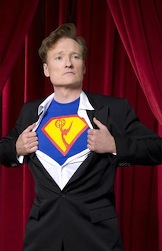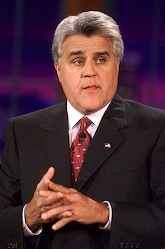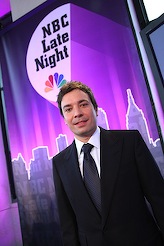 By ED BARK
Jay Leno has less than a year left on his No.1-rated
Tonight Show
, NBC announced Monday.
The succession plan, with Conan O'Brien succeeding Leno, has long been in place. But the Peacock has for the first time given official days and dates, with O'Brien to step in as only the fifth host in
Tonight Show
history on June 1, 2009. He'll relocate from New York to Stage 1 at Universal Studios in Los Angeles, NBC says.
O'Brien in turn will be replaced sometime next spring on his
Late Night
show by former
Saturday Night Live
star Jimmy Fallon. And on May 29, Leno will host his final
Tonight
.
Leno, who succeeded Johnny Carson on May 25, 1992, agreed to the move several years ago. He since has stepped up his ridicule of NBC's ongoing programming problems while at the same time becoming late night's hottest property for whatever network wins a likely bidding war to get him.
At an NBC press conference Monday in Beverly Hills, though, the lantern-jawed, latter day king of late night fake-grilled Peacock executives while disguised as a none-too-telegenic TV critic in a bald cap and goatee. NBC higher-ups later said it was Leno's way of showing he's on board with the move and will help to facilitate a smooth transition.
ABC and Fox executives both have expressed a strong interest in having Leno come over to their side, but negotiations can't begin until Leno leaves the show that has remained a strong No. 1 during his tenure.
"Jay has left his personal stamp on
The Tonight Show
for what will be 17 years," NBC entertainment executive vice president Rick Ludwin said in a statement. "He is enormously creative, generous and professional."
NBC has given lip service to trying to keep Leno in another capacity. But few expect him to stay. The other two
Tonight
hosts, over an almost 54-year span to date, have been Steve Allen and Jack Paar.
***
The network also announced Monday that current
SNL
regular and "Weekend Update" co-anchor Amy Poehler will be starring in her own NBC comedy series sometime next season. It has no official title or premise yet, but is being created by Greg Daniels and Mike Schur, executive producers of NBC's
The Office
.
Poehler's former running mate on
SNL
, Tina Fey, stepped into prime-time two seasons ago with
30 Rock
, which last week received the most single-season Emmy nominations of any comedy series in history. Poehler and Fey starred in the recent feature film
Baby Mama
.
"She is a terrible human being," Schur said of Poehler. "But I am more than willing to overlook her many, many character flaws for the chance to work with her again."