Uncle Buck gets another shot -- and a beer
06/14/16 09:19 AM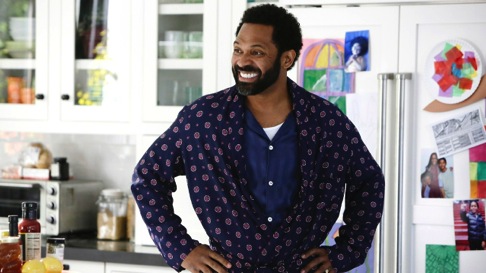 Mike Epps plays the scheming title character in Uncle Buck. ABC photo
Premiering:
Tuesday, June 14th at 8 p.m. (central) on ABC
Starring:
Mike Epps, Nia Long, James Lesure, Iman Benson, Sayeed Shahidi, Aalyrah Caldwell
Produced by:
Will Packer, Steven Cragg, Brian D. Bradley, Karin Hughes, Kenny Smith, Michael Pennie, Franco E. Bario
By ED BARK
@unclebarkycom on Twitter
It's been a year and a month since ABC announced
Uncle Buck
as a midseason entry in its 2015-'16 prime-time schedule. Not that there was any rush.
TV's second reboot of the 1989 John Candy movie dusts itself off and arrives on Tuesday, June 14th with back-to-back episodes sandwiched between a pair of one-hour editions of another ABC excavation project,
To Tell the Truth
.
Perhaps one of the
TTTT
panel-stumpers could be two impostors and the real Kevin Meaney, who played the title role in CBS's short-lived 1990 version of
Uncle Buck
. It's best remembered for causing something of an uproar in Episode 1, when little six-year-old Maizy Russell pointedly told her older brother, Miles, "You suck!" The controversy helped to take the air out of the show, as did time slot competition from ABC's
MacGyver
and NBC's
The Fresh Prince of Bel-Air
.
More than a quarter-century later, the new Maizy (Aalyrah Caldwell) probably could call her brother a "dildo head" without causing any stir. Instead she exclaims over the phone, "Mom, a prostitute taught me how to twerk!" after babysitting Buck (Mike Epps) takes the three Russell kids to a seedy bar. Uncle Buck, you rock.
Mercifully without a laugh track, ABC's reprise is built around a black cast and can be passably amusing now and then. Epps' conniving, jobless but good-natured Buck is first seen building a beer can pyramid and wearing a beer can hat before his fed-up fiancee upbraids him -- "You need to grow your ass up!" -- and eventually dumps him. But this Buck is both belch-less and without a beer belly. In fact, he looks ready to run a 100-yard dash -- even if it might be from the cops.
Meanwhile, prosperous Alexis and Will Russell (Nia Long, James Lesure) are both scheduled to be out of town on business. But their latest nanny, an elderly woman who speaks broken English, quits in a huff after branding the three Russell kids "terrorists" (a very unfortunate choice of words after Sunday's mass shootings in Orlando). This leaves Maizy, Miles (Sayeed Shahidi) and oldest daughter Tia (Iman Benson) in need of someone to survive them. So Will reluctantly calls his brother, Buck, who for now is happy to oblige in return for residing in a posh home.
On the following morning, his breakfast of champions for the kids is cake because "it's got everything kids need. Eggs, flour, frosting."
That's not a bad line. Nor is Tia calling the bar they wind up in "Filthy Cheers." Or Miles asking his parents if Buck can "live with us and be our 'manny.' "
The show's writers carefully walk a line between Buck being a con man and stereotypically shiftless. With a white family this wouldn't be a consideration. But under these new circumstances, the title character stops well short of even being slovenly.
Tuesday's second episode, subtitled "L'il Scarface," is built around Maizy's reluctance to sell "Sunny Scouts" cookies. But she sure would like to win one of the prizes at stake -- a cheetah necklace. So Buck sets up a "crew" on the sly while Tia and Miles try to figure out how to repair a big hole in his bedroom wall and save her from being grounded before she can attend a big concert.
Most of this probably could play these days on The Disney Channel. Except for perhaps the kicker in Episode 1, when Buck somehow gains access to a no-good teen "player's" bathroom, snaps him coming out the shower, brands the kid "Inchworm" and threatens to expose him on Instagram if he doesn't immediately mend his ways.
Otherwise the long and short of
Uncle Buck
goes like this: Epps has his moments, the kids are well-cast and there are a few good lines. But you won't be missing much if your Tuesday nights are already reserved for NBC's competing
America's Got Talent
.
GRADE:
C+
Email comments or questions to:
unclebarky@verizon.net