Generation Kill (or be killed) --in Iraq
07/11/08 02:52 PM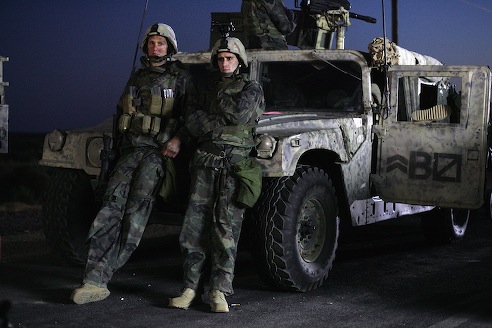 Actors Alexander Skarsgard, James Ransone of Generation Kill
Premiering:
Sunday, July 13 at 8 p.m. central and continuing through Aug. 24 on HBO
Starring:
Alexander Skarsgard, James Ransone, Lee Tergesen, Stark Sands, Billy Lush, Jon Huertas, Chance Kelly, Neal Jones and many more
Written and produced by:
David Simon, Ed Burns
Directed by:
Susanna White, Simon Cellan Jones
By ED BARK
An early scene Sunday in HBO's
Generation Kill
underscores the series' gravity and recurring depravity in depicting the first 40 days of the Iraq war.
It's not bloody, but it bloody well isn't pretty. In fact, the verbiage -- and those on the receiving end of it -- might make some viewers wince more than if they were seeing a baby-faced American GI cut in half with automatic weapons fire.
While still training in North Kuwait, Marines with Bravo Company's Platoon 2 unit get a packet of supportive letters from a class of fourth graders. One of the Marines ad libs a mocking, graphic response to their hopes for peace and safe returns.
"I'm a death-dealing, blood-crazed warrior . . . Peace sucks a hairy asshole," he proclaims as though he were reading his return letter to them.
That's not the half of it, but you get the point. And just at this point, some might tune out in disgust rather than endure this "gritty, uncompromising account" adapted from
Rolling Stone
contributor Evan Wright's same-named book and brought to HBO by the team behind
The Wire
.
Unfortunately the truth at times can really hurt in a point-blank, seven-hour miniseries in which real names and events are deployed. So is "the precise dialogue" recorded by Wright during his seven weeks with the First Recon Battalion. And Marine dialogue, as I know from having been one, is not for the faint of heart. Or for pussies, as your basic Leatherneck would say.
This is all a stark, searing contrast to the overall majesty of HBO's previous
Band of Brothers
, the acclaimed World War II miniseries orchestrated by Steven Spielberg and Tom Hanks. They're collaborating again on HBO's
The Pacific
, scheduled to premiere sometime next year.
Spielberg and Hanks adorn their warfare with mood-setting music and panorama. It's not meant to be overly pretty, but at least looks and feels gallant. WWII still lends itself to that kind of approach.
There's nothing picturesque about
Generation Kill
. Nor is there any soundtrack, save for a closing tableau in Chapter 7 that uses Johnny Cash's "The Man Comes Around" to very powerful effect.
Producers David Simon and Ed Burns, who also are given co-writing credits, prefer dead-end streets to yellow brick roads. They don't paint many or any pretty pictures, investing their airs of authenticity with a suitable stench.
Steven Bochco's relatively recent
Over There
series, killed by low ratings after a single season on FX, tried hard to get at the undersides of American soldiers in Iraq while also telling some rather lame homefront stories.
Simon and Burns almost make his efforts seem like Candyland. They have the freedom of unfettered expression on HBO, and use it without any seeming inhibitions. This can be very rough, coarse stuff, with many of the depicted Marines regularly discoursing on "
ree
-tards," gays (usually in much starker terms), bloodlust, bowel moments, etc.
"You know what happens when you get out of the Marine Corps?" one asks. "You get your brains back."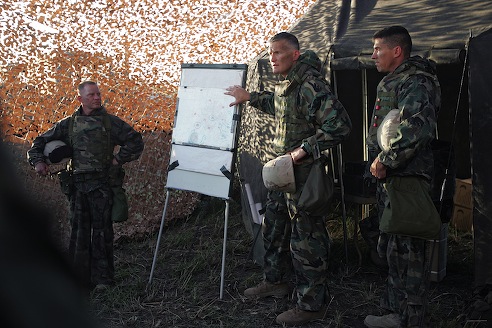 Lt. Col. Stephen "The Godfather" Ferrando (center) calls the shots.
Into their midst comes
Rolling Stone
's Evan Wright (Lee Tergeson), who oddly enough often seems out of place even when he's supposed to seem so. Taunted in varying degrees throughout this drama, Wright does quickly impress some of the Marines after telling them he used to write "Beaver Hunt" for
Hustler
magazine.
Generation Kill
constantly reminds viewers that Wright is a quintessential Stranger in a Strange Land. He seems to have three basic silent reactions -- bemused, confused or pretty much repulsed. Whatever, they're overused.
Wright can't hold a candle, though, to cartoonish Sgt. Major John Sixta (Neal Jones), whose loud, curious obsession with proper Marine "grooming" takes him over the top and into the realm of Foghorn Leghorn with a gallon of Red Bull in his belly.
Most of the Marines are bracingly authentic, though, even if some also are brazenly off-putting.
Sgt. Brad Colbert (Alexander Skarsgard) and kid-faced Lt. Nathaniel Fick (Stark Sands) are the marquee "good guys." They strive to act honorably amid chaos that's often promulgated by Lt. Col. Stephen "The Godfather" Ferrando (Chance Kelly), whose raspy voice is a carryover from throat cancer.
"The Godfather" -- he's strictly a third-person guy -- yearns to kick ass, take names, press the action. But he also has an occasionally redeeming compassionate streak during the course of being a man's man first and foremost.
There's also Lance Cpl. Harold James Trombley (Billy Lush), who must have spent his entire adolescence playing Grand Theft Auto. Lusting after his first kill, he's a deadeye marksman with a racist bent. Shooting a camel is kinda fun for him, too.
Generation Kill
has a demonstrable lack of black characters and just a smattering of Hispanics. But the photos in Wright's book indicate that that's the way it was with this particular group of Marines. So accuracy trumps any worries about political correctness.
Most of the miniseries charts the long march into Baghdad, which isn't reached until the climactic chapter.
"I think I heard an Iraqi shot right in front of me," reporter Wright tells a Marine.
"That's too bad," he rejoins. "He probably would have liked democracy."
Both Lt. Fick and Sgt. Colbert soon have serious misgivings about the confusion and missteps that seem to be turning the so-called liberation of Iraq into an abortion.
"We keep killin' civilians, we're gonna waste this (. . .) victory," Colbert says.
Wright's time is up, though. And after a memorable exit interview with "The Godfather," he's in a chopper headed home.
That was more than five very long years ago. And a majority of Americans since have shown both their distaste for the Iraq war and their reluctance to watch it depicted on either big or small screens.
Generation Kill
isn't likely to bring much of a crowd to its seven-week march through HBO's Sunday night lineup. But this is a gutty balls-out effort nonetheless. Its final images, delivered via a laptop and further sold by Cash's currency, serve as a "perfect" ending to a chapter-and-verse depiction of war as hell and warriors as raising-hellboys.
The eventual DVD set might as well be wrapped in sandpaper.
Grade:
A-minus