As the stomach turns: Notes from the Underbelly back for more
11/26/07 02:16 PM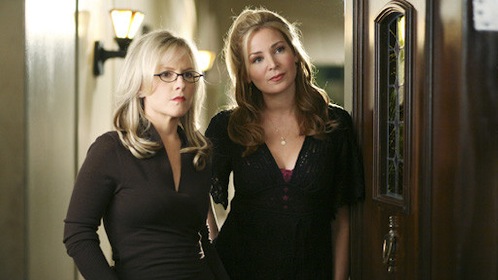 Scene-stealing Rachael Harris and still expectant Jennifer Westfeldt
By ED BARK
ABC's still amusing comedy about budding first-time parents is anything but an early arrival.
It's still in there kicking, though, and prospects look more promising this time around.
Notes From the Underbelly
, originally a part of last fall's new lineup, instead
premiered on April 12th
of this year. Eight episodes aired before ABC seemingly had seen enough. But the network surprisingly designated the series as a mid-season replacement after leaving five completed episodes on the table.
Seven months later, prime-time's record-setting pregnancy resumes, with Lauren (Jennifer Westfeldt) still four weeks from her due date. At least that's what viewers are told in
next
week's episode. In tonight's re-opener (8:30 p.m. central, Nov. 26), Lauren and husband Andrew (Peter Cambor) are only far enough along for the sex of their baby to be determined. That's usually in the cards by the 20-week mark. But do they really want to know?
Underbelly
may not be as much under the radar this time. Its lead-ins are the fall season's final performance edition of
Dancing with the Stars
followed by a new episode of the bonafide hit comedy
Samantha Who?
.
ABC's rebuilt Monday also includes the return of
October Road
at 9 p.m. (central) after Thanksgiving night's sneak preview. Both returnees stand to make more of an impression in times when the writers' strike will be reducing most ongoing series to reruns after the November "sweeps" ratings period ends Wednesday.
A six-pack of characters propels
Underbelly
. Lauren and Andrew have their moments, but the show gets its bite from Rachael Harris as best friend attorney Cooper. She's the chipotle, spicing up scenes without ruining their flavor. It's nigh impossible to imagine her with child. That'd be way too icky for this self-centric commitment-dodger with a tongue sharp enough to cut thick-crust pizza.
Also included are new, hyper-enthusiastic parents Julie and Eric (Melanie Paxson, Sunkrish Bala), whose "Baby Perry" just won't sleep worth a damn. A resident doofus named Danny (Michael Weaver) fills out the cast. Every network sitcom's gotta have one of those, but he's at least tolerable.
Absent a laugh track and infused with dead-catchy organ music,
Underbelly
is just amusing enough to get by. So maybe Lauren at least can finally make it to full term before ABC gets any other ideas?
Grade:
B