59th Annual Primetime Emmys: Goodbye Sopranos, hello 30 Rock
07/19/07 10:14 AM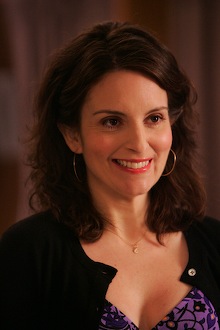 Tiny Fey of 30 Rock and Ugly Betty's America Ferrera.
By ED BARK
NBC got one of the boosts it wanted Thursday when its ratings-challenged
30 Rock
led all half-hour comedies with 10 Emmy nominations in its first year.
The network's
Friday Night Lights
went begging, though, scoring just two Emmy nods in minor categories. New entertainment president Ben Silverman said he had hoped to increase the drama's profile with a best drama series nomination. But it mostly was
Lights
out for the Austin-made series, which scored only in the directing and casting categories after recently winning a prestigious George Foster Peabody Award.
Emmy publicists made a point of noting that 33 of the 54 major nominations in the comedy and drama series divisions represented "fresh faces and shows." Veteran series made strong showings, too. The final season of HBO's
The Sopranos
topped the drama series contenders with 15 nominations while ABC's
Grey's Anatomy
had nine.
Among other freshman entries, ABC's
Ugly Betty
had 11 nods and NBC's
Heroes
, eight.
Betty
star America Ferrera and
30 Rock
's Tina Fey also received lead actress nominations.
In possibly the biggest disconnect in Emmy history, the HBO movie
Bury My Heart at Wounded Knee
had the most nominations of all, 17. Last week, however, it was voted the season's worst movie, miniseries or special in a survey of TV critics by the trade magazine
Television Week
.
Also in the movie and miniseries categories, Robert Duvall received his fourth Emmy nod for the AMC western
Broken Trail
. Perhaps the Academy of Television Arts & Sciences at last can partially atone for its most egregious oversight ever. That would be its bypass of Duvall for his classic portrayal of ex-Texas Ranger Gus McCrae in the 1989 CBS miniseries
Lonesome Dove
.
Besides
Friday Night Lights
, shutouts in major categories included HBO's
The Wire
and
Deadwood
, FX's
The Shield
and
Nip/Tuck
, and Sci Fi Channel's
Battlestar Galactica
.
ABC's
Lost
again failed to make the cut in the best drama series division, where it should have supplanted the network's
Boston Legal
.
Lost
did get six nominations overall, though, including two in the supporting actor category.
FX's
Rescue
nabbed just one nomination, but it was a big one. Star Denis Leary is in the hunt as best actor in a drama series.
ABC's
Dancing with the Stars
topped all reality series with eight nods and Queen Latifah got her first nomination for the HBO movie
Life Support
.
Former
Roseanne
co-star John Goodman will try to win his first Emmy in 10 tries, this time for a guest performance on NBC's canceled
Studio 60 on the Sunset Strip
. Ed Asner hopes to to rack up his eighth win in 16 outings, for a supporting actor role in The Hallmark Channel's
The Christmas Card
.
HBO again lead all networks with 86 nominations, down from 97 last year. Runnerup ABC had 70, just one ahead of NBC. Other networks with double-digit nominations are CBS (44); Fox (28); PBS (24); AMC (18); Showtime (17); Discovery Channel (16); Comedy Central and USA (12 each) and TNT (11).
Covering a period from June 1, 2006 to May 31, 2007, the major Emmys will be awarded for the 59th time on Sept. 16th, with Fox the carrier. Go
here
for the Academy's complete list of nominees.