Review: Prime Suspect: The Final Act (PBS)
11/12/06 11:47 AM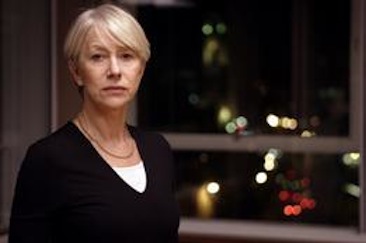 One more time: Helen Mirren as Det. Supt. Jane Tennison
By ED BARK
Her majesty, Helen Mirren, has been playing queens of late. But she's also found time to perform last rites on her crowning achievement.
PBS'
Prime Suspect: The Final Act
(8 p.m. central, 9 eastern) plays out in two acts on Nov. 12 and 19. Presented under the
Masterpiece Theatre
banner, it's the seventh and last look at increasingly dissipated Detective Superintendent Jane Tennison, Nearing retirement, she's battling the bottle, loneliness and her father's impending death from cancer. It's all etched in her color-drained face, the most visible evidence of the toll taken by Tennison's mostly solitary life of crimesolving.
Mirren first played the character in 1992, when she fought chauvinism within Scotland Yard while also exposing corruption within the force. That force has not always been with her, even to this day. Tennison's boss, seeing the effects of her alcoholism, would rather she take sick leave than stay the course on a case involving the brutal murder of 14-year-old Sallie Sturdy (Maxine Barton). But she prevails and perseveres, along the way befriending and nurturing young Penny Phillips (Laura Greenwood), the daughter she never had.
We first see Tennison awakening after another boozy night in her apartment. She notices a discolored lump on her forehead, but has no clue where it came from. Nor does she remember receiving a phone call about the missing Sallie. Fortifying herself with another big belt, she shows up at work in a cloudy state of disrepair. But she's Tarzan, she's Jane, and there's one last riddle to be cracked before they carry her out on her shield.
Final Act
is driven by Mirren's ebbs and flows but also has standout performances from Gary Lewis as Sallie's surly father, Tony, and Stephen Tomkinson in the role of school headmaster Sean Philips. Might either or both be implicated in Sallie's death? Tony wants to hear nothing of the sort. "There's your DNA!" he rages after spitting it in Tennison's face.
Sentiment is in short supply throughout this last tale of justice and just desserts. Tennison's conversations with her dying father, Arnold (Frank Finlay), and estranged sister, Pauline (Carolyn Pickles), are strained through years of interpersonal neglect. She is closer to her Dad, but not to the point where they can muster much to say to one another. Tennison is more animated while dancing alone in her abode to a well-worn pop record skipping about on an old school phonograph. The music to her ears is not for sharing.
It all ends a little too abruptly next Sunday, for both Tennison and the legions of
Prime Suspect
fans who long have watched her from a respectful distance.
Down the homestretch, she snaps at a fellow detective, "Don't call me ma'am. I'm not the bloody queen."
She has been on thrones of late, both in last year's
Elizabeth I
, for which she won an Emmy, and the current
The Queen
, for which an Oscar nomination is likely. Jane Tennison will always stand taller, though. She's a piece of work and a body of work, a woman who gave her all at the expense of all else.
In the end, Tennison needed that stinkin' badge. And in real life, it's the one
Prime Suspect
keepsake that Mirren says she took with her. They are, after all, inseparable.
Grade:
A-minus