Breaking down the demographics of prime-time's hits and misses
08/28/15 10:07 AM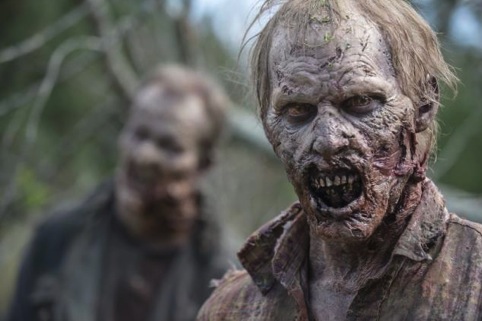 The zombies keep plodding, but The Walking Dead continues to be a runaway hit with advertiser-prized 18-to-49-year-olds. AMC photo
By ED BARK
TV's coin of the realm, the advertiser-prized 18-to-49-year-old audience, continues to work against those shows that dare to "skew old."
It's not fair and never has been. But it's pretty much the reality. Age-ism remains in full bloom when it comes to renewing or canceling series of all shapes, sizes, genres and colors. And I'd say that even if I weren't well beyond this advertiser-prized demographic. Well, maybe I wouldn't.
The age composition of the audience is less important if you're HBO, Showtime, Starz, Netflix, Amazon Prime or other extra-fee-per-month "premium" or streaming networks. For them, your money's good even if your teeth are in a cup and a zombie can out-run you. Here's one notable example.
Longmire
, canceled by A&E because its audience was deemed to have too many liver spots, got picked up by Netflix and will start streaming all 10 Season 4 episodes on September 10th.
"Our viewers did skew older," co-executive producer Greer Shephard said last month at the Television Critics Association press tour. "And A&E did not have an ownership stake in the show. We are, mercifully, now at a wonderful company that values viewers over demos."
Those old enough to have experienced the 1960s first-hand shouldn't get overly cranked up, though.
Longmire
is an aberration -- sort of like Betty White. The easiest path to renewal is still a solid percentage of 18-to-49-year-olds, even if your total viewership looks deficient on paper.
This brings us to the FX network's always helpful statistical compilations, which it puts out on a non-partisan basis during every TV press tour. One of the latest is a ranking of all prime-time series that aired from Dec. 29, 2014 to May 17th of this year. Streaming sites are excluded because they still won't provide any audience numbers for individual shows. And NBC's
Sunday Night Football
, which would have been No. 2 among 18-to-49-year-olds, finished its regular season in December.
The kingpin of the 18-to-49 kingdom is AMC's
The Walking Dead
, which has a median age of just 36 and ranked third in total viewers with 20.067 million in the Live + 7 Day Nielsen ratings. But here's what scares the competition even more. An astonishing 13.228 million of those viewers were in the 18-to-49 motherlode.
Walking Dead
also ranked No. 1 with 18-to-34-year-olds, averaging 6.775 million per episode.
Here are the other top 10 members of the 18-to-49 club.
2.
Empire
(Fox) -- 9.028 million
3.
The Big Bang Theory
(CBS) -- 8.011 million
4.
Modern Family
(ABC) -- 6.505 million
5.
Game of Thrones
(HBO) -- 6.160 million
6.
How to Get Away with Murder
(ABC) -- 5.880 million
7.
Scandal
(ABC) -- 5.378 million
8.
The Voice
(NBC) -- 4.944 million
9.
The Voice
(Tuesday) -- 4.892 million
10.
The Blacklist
(NBC) -- 4.819 million
Among these top performers, only
Walking Dead, Empire
and
Game of Thrones
drew more than half their total audience from the 18-to-49 age range.
GOT
was the biggest over-achiever, ranking just 42nd in total viewers.
Two animated Fox series,
The Simpsons
and
Family Guy
, also pole-vaulted into 18-to-49 prominence despite relatively low total viewer ranks.
The Simpsons
, which begin its gazillionth season this fall, ranked 50th in total viewers but No. 12 among 18-to-49-year-olds.
Family Guy
jumped from 88th to 38th place.
In the cable arena, AMC's
Talking Dead
rated 65th in total viewers but 13th with 18-to-49-year-olds. FX's
American Horror Story: Freak Show
soared from 74th to 18th place in those two ratings groups while AMC's
Better Call Saul
was almost as impressive with a 72nd place finish in total viewers and a No. 19 ranking in the 18-to-49 demographic.
Both of the Fox cartoons and the three above cable series all drew more than half their audience from the 18-to-49 pool. Your renewal prospects are solid gold if you bat more than 50 percent in the 18-to-49 league.
Let's look at a few opposite cases.
CBS'
Blue Bloods
ranked 7th in total viewers with an average of 15.234 million per episode. But it skewed almost older than your neighborhood cemetery with just 2.659 million 18-to-49-year-olds. That put
Blue Bloods
in the 60th spot and also "on the bubble" regarding the year-end decision-making on whether to give it another season. The Tom Selleck cop show got a reprieve this time while low overall achievers such as ABC's
Marvel's Agents of S.H.I.E.L.D.
were considered shoo-ins for another season.
Blue Bloods
averaged 8.242 million more total viewers than
S.H.I.E.L.D.
, but trailed the ABC show among 18-to-49-year-olds by 695,000. In the rather twisted economics of network television,
S.H.I.E.L.D.
is considered the stronger property. Furthermore,
Blue Bloods'
median age is 63 while
S.H.I.E.L.D.
's is 47.
Why the premium on 18-to-49-year-olds and the discounting of older viewers? Whether or not it really makes sense anymore, younger viewers are still seen by Madison Avenue as more "impressionable" buyers of new and often crappy products while grandma and grandpa supposedly are set in their ways and wedded to many of the things they've been buying for years.
This is the argument even though relative oldsters tend to have far more disposable income than their younger descendants. Still, Jimmy Gamer can always ask his elders for enough money to buy a somersaulting cell phone and the latest Gargantuan Paul Bunyan Mega-Burger -- piled high with four all-beef patties, six slices of bacon, four melting cheeses, three onion rings, a fried egg, hash browns and cotton candy on a Frisbee-sized bun with baked-in M&Ms.
Let's close by telling you why CBS'
CSI: Crime Scene Investigation
got canceled and Fox's
Brooklyn Nine-Nine
didn't.
CSI
, which will get a two-hour movie sendoff on Sept. 27th, still did quite well in the total viewer ratings, ranking 31st with an average of 11.108 million.
Brooklyn Nine-Nine
was 98th in this measurement with 4.407 million.
Among 18-to-49-year-olds,
CSI
ranked 61st with 2.629 million.
Brooklyn Nine-Nine
wasn't all that much better with 2.751 million viewers and a 57th place finish.
But even though
CSI
drew 6.701 million more total viewers, its percentage of 18-to-49-year-olds stunk when compared to
Brooklyn Nine-Nine
's. Remember that rule of 50 percent?
Brooklyn Nine-Nine
easily surpassed this threshold while
CSI
's 18-to-49-year-old audience was less than 25 percent of its total.
In the end, that's the overriding reason why one cop show gets a body bag and the other continues to patrol prime-time. From a critical standpoint and even though I'm an ancient mariner, I'm glad
Brooklyn Nine-Nine
survived. But 11.108 million viewers were still tuned to
CSI
every week. Problem is, they just weren't the "right" ones.
Email comments or questions to:
unclebarky@verizon.net