TV special review: Fired! (Showtime)
03/28/07 03:04 PM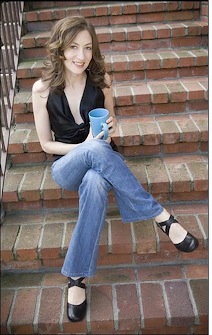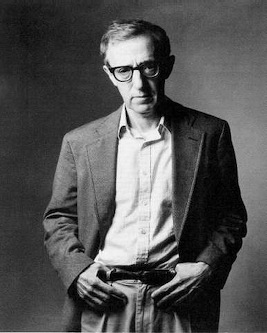 Actress Annabelle Gurwitch and her nemesis, Woody Allen
By ED BARK
Don't fire Annabelle Gurwitch and expect to get away with it -- even if you're Woody Allen.
The modestly successful actress had assembled a long list of TV guest shots and bit movie parts before Allen hired her for his 2003 off-Broadway play
Writer's Block
. Then he abruptly dumped her, allegedly telling Gurwitch that her performance was so bad it made her "seem retarded."
That's Gurwitch's story, and she's sticking with it while sticking it to him in
Fired!
. Drawn from her same-named book and play, the 90-minute documentary premieres Thursday (March 29) on Showtime (7:30 p.m. central, 8:30 eastern). Allen, of course, is not commenting. And really, why should he? Both Gurwitch and
Writer's Block
were barely sub-blips on his radar screen, even if she' s been using him as leverage ever since.
Fired!
opens with Gurwitch getting her walking papers from a rambling, fake Woody played by TV writer/producer Ed Crasnik. Mortified, humiliated and newly insecure, she seeks out sympathetic ears. Her rabbi, Mel Gottlieb, counsels Gurwitch to be "open to new energy." Otherwise, he says, "you remain a martyr."
She goes on to collect material from an array of show business pals who regale her with tales of likewise being sacked, dumped, dismissed, terminated or whatever description suits your mood. It's not exactly an A-list assemblage, but there are plenty of familiar faces. Anne Meara, Tim Allen, Jeff Garlin, Sarah Silverman, Richard Kind, Bob Odenkirk, Illeana Douglas, Ben Stein, Fisher Stevens, Fred Willard and the inevitable Andy Dick are among Gurwitch's conquests. What, no Kathy Griffin? How can that be?
"I liked the stories about getting fired more than the play I got fired from," Gurwitch soon deduces.
She's not a dynamic interviewer. And for an actress, Gurwitch at times seems surprisingly conscious of being on camera. But
Fired!
slowly takes hold, hitting a visual high at least when the filmmaker kibbitzes with the always agreeable Willard while sitting in a hot tub with him. Pal Harry Shearer lolls around nearby, cracking up when Willard recalls being dropped from the shortlived 1984 NBC sitcom
Spencer
after being cast in the pilot.
"They're proceeding without you," Willard recalls being told via telephone.
Faded sitcom writer Andy Borowitz, who lately seems to be morphing into a vision of Frankenstein's monster, delightedly tears into an easy target,
The Facts of Life
. He wrote a few episodes in the mid-1980s before being canned.
"It was the worst television show ever produced," says Borowitz, who joined the writing staff rather than starve to death. He took the bus to work, "which in L.A. is akin to eating out of a dumpster."
To her credit, Gurwitch also ranges farther afield to interview an array of non-show business firees, including former White House chef Walter Scheib III, ex-United Auto workers union official Tiny Sherwood and onetime insurance company employee Anita Epolito, who declined to be tested on the job for nicotine levels.
All in all, it's a pretty cute and sometimes even inspiring film.
"It's not great to get fired, but it gives you a chance to move on," says Garlin, who's landed firmly on his feet as Larry David's manager in HBO's
Curb Your Enthusiasm
. Other than that he has the distinction of being fired as host of the Fox reality series
Fire Me . . . Please
.
Gurwitch fashions her own happy ending, sending a letter to Allen that apprises him of her subsequent book, play and documentary.
"So I guess I should say thank you for firing me," she writes in part. "And although I probably won't ever see one of your films again, I am wishing you well."
Not that Allen ever really got the hang of her surname, Gurwitch says in closing. So she's probably still a nobody to him. And this case, what he doesn't know can't hurt him.
Grade:
B