New series review: Miss Guided (ABC)
03/17/08 02:31 PM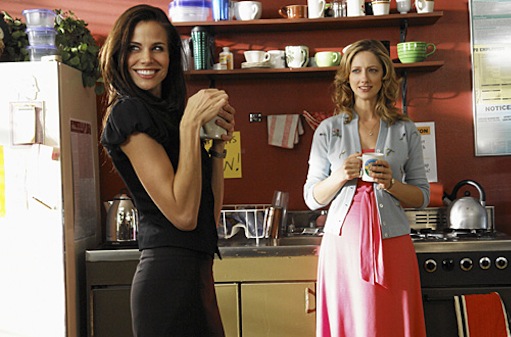 Dallasite Brooke Burns and star Judy Greer of Miss Guided. ABC photo
Premiering:
Tuesday, March 18th, at 9:32 p.m. (central) on ABC. Then moves to Thursdays at 7 p.m. with back-to-back episodes
Starring:
Judy Greer, Brooke Burns, Kristoffer Polasha, Chris Parnell, Earl Billings
Produced by:
Caroline Williams, Ashton Kutcher, Jason Goldberg, Todd Holland, Karey Burke, Mark Hudis
By ED BARK
ABC's new
Miss Guided
sitcom charts new vistas in prime-time entertainment -- at least in terms of avoiding all those bothersome postage costs.
It's the first broadcast network series to be available for review only on a network Web site with an approved password required for admission. From now on, forget about getting DVDs of any new ABC product in the mail. Like it or not, this is the way it's going to be for America's dwindling supply of TV critics. So let's review the overall ease of viewing before getting to the disease that
Miss Guided
turns out to be.
ABC merits a grudging A for this maiden outing in wave-of-the-future cost-cutting. The premiere episode of
Miss Guided
played flawlessly and clearly on my iMac. And it's easy to rewind in the interests of getting any dialogue snippets just right.
The network also makes it very plain that you'd better not try to replicate its product in any way, shape, form, etc. As a recurring printed disclaimer states, "For review only. Not for downloading, recording, file sharing, sale or public performance." Nor can you use it to whip up a nice pasta.
Now on to the show itself, which may well get a decent sampling Tuesday night following ABC's
Dancing with the Stars
. Then again, the audience falloff might quickly replicate an Acapulco cliff dive once viewers realize what's befalling them.
Miss Guided
, which includes Ashton Kutcher among its executive producers, wears out its welcome faster than Gene Simmons in Branson.
Judy Greer stars as guidance counselor Becky Freeley, who's returned to her alma mater, Glen Ellen High, after graduating with full geek honors.
Latently attractive without her industrial strength braces, Becky's otherwise an unsympathetic and utterly incompetent advice-giver who fits right in with the rest of the school's idiot faculty. Apparently this is supposed to be a laugh riot. But in these trying times for educators,
Miss Guided
is both woefully out of step and thoroughly unexceptional.
Dallasite Brooke Burns adds another unfortunate career choice to her resume after earlier stints on
Pepper Dennis
and
North Shore
. This time she plays former homecoming queen Lisa Germain, who's now a self-important bombshell of an English teacher.
Former
Saturday Night Live
regular Chris Parnell dips his beak as a tiresomely self-important vice principal named Bruce Terry. There's also Spanish language teacher Tim O'Malley (Kristoffer Polaha), who likewise has no business being there.
"I barely know how to speak Spanish," he tells Becky, who spends the entire first episode lusting after him. "I'm only one language lab ahead of the kids."
Miss Guided
is without a laugh track -- the show's only good call -- and constantly has its aimless characters talking to the camera rather than amongst themselves. ABC already has announced the show's "season finale," --set for April 3rd. That's just 16 days beyond its premiere date.
Networks sometimes are smart enough to act fast in the interest of burning off a clinker. Saving on postage was the right call, too.
Grade:
D-minus