Still kicking -- both Don Hewitt and the Radio City Christmas Spectacular
11/30/07 12:26 PM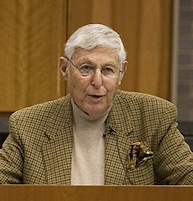 By ED BARK
Legendary producer Don Hewitt is reasonably sure he was there at the creation -- of the Radio City Christmas Spectacular, that is.
"It's my recollection that my parents took me to the first one," he says in a recent teleconference.
If so, he would have been 10 or 11 years old. Hewitt, who plans to turn 85 on Dec. 14th, now is producing the first-ever telecast of New York's trademark holiday high-kicker, which is in its 75th anniversary year. Show time is on Saturday, Dec. 1, at 7 p.m. (central) on NBC.
"You talk about
Dancing with the Stars
. That's exactly what this has been (since 1933)," says Hewitt, who views the show's signature Rockettes as the West Point Cadets of show biz.
Hewitt, best known as the architect of CBS'
60 Minutes
, has been an advisor to the show for a few years now. Itchy for something to do, he asked Radio City officials whether they'd consider a prime-time TV showcase.
They quickly consented, says Hewitt, who has boiled the 90-minute show down to about half that time to fit a one-hour slot minus commercials. The NBC production was taped on Nov. 12th, and "everything just works like a charm," he says.
Today
co-hosts Matt Lauer and Meredith Vieira will be tour guides from their balcony perch. With "judicious editing, you lose noting," Hewitt contends. "What you really want to do is make a guy feel like he was actually there."
Hewitt also is producing a documentary on the Rockettes for PBS'
American Masters
series. It likely will premiere before next year's Christmas Spectacular.
He deployed nine cameras for the NBC effort, being presented in high-definition. Hewitt compares it to capturing the 1953 coronation of Queen Elizabeth. That's also on his resume, as are the historic 1960 presidential debates between John F. Kennedy and Richard Nixon.
"This one is going to be an icon," he say of the Christmas Spectacular, which also will have a DVD edition. "Why it was never done before is a mystery to me."