Idol: Eight is enough, and Jason Castro is one of 'em
04/02/08 11:42 PM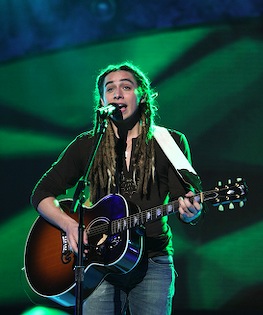 Ramiele Malubay's out while Rockwall's Jason Castro plays on.
By ED BARK
Another lashing from judge Simon Cowell didn't deter Rockwall's Jason Castro from making
American Idol
's Elite Eight Wednesday.
The 21-year-old also dodged a second consecutive trip to the Fox show's so-called silver "Stools of Shame, reserved weekly for the Bottom Three vote-getters.
Ramiele Malubay instead went home while cat-with-nine-lives Kristy Lee Cook again got a reprieve. The other stoolie, first-timer Brooke White, had the dreaded lead-off spot on Tuesday's performance show, "mentored" by Dolly Parton. But she quickly got the "safe" sign from host Ryan Seacrest, leaving Malubay and Cook dangling.
Castro's performance of Parton's "Travelin' Through" got the usual pull-string responses from judges Randy Jackson and Paula Abdul. She loved it and he deemed it "pretty good. You worked it out."
But Cowell "didn't like it at all." And had he been seeing Castro perform for the first time, he "wouldn't get it."
Castro's got new life, though, and may be able to outlast both Cook and Syesha Mercado before the going gets really rough. Then again, I had Malubay in my Final Four, so take any further predictions under advisement.