R.I.P. Peter Falk (Sept. 16, 1927 to June 23, 2011
06/24/11 01:51 PM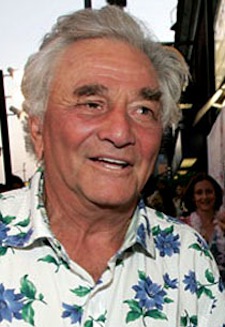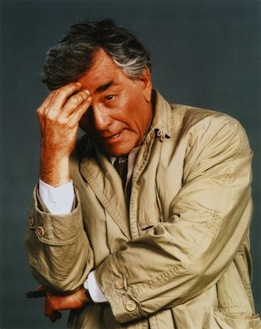 By ED BARK
American television's Sherlock Holmes, always resplendent in a rumpled tan raincoat, is now without the man who seemingly was born to play him.
Peter Falk, first seen as lieutenant Columbo in the February 20, 1968 movie
Prescription: Murder
, has died at the age of 83. That makes two iconic TV actors in less than three weeks. James Arness, likewise etched on small screens as
Gunsmoke
's Marshal Matt Dillon, died on June 3rd at the age of 88.
Columbo seemingly bumbled through every murder mystery he ever solved. But his appearance and demeanor of course were deceiving. "Just one more thing" or ""I'll tell ya what's botherin' me," he'd invariably get around to telling a wrongdoer. Audiences always knew the killer's identity from the start. Columbo's deferential line of questioning slowly reeled in his prey -- hook, line and stinker. They all initially thought he was an easily bamboozled rube. Wrong.
TV critic colleague Mark Dawidziak, in his excellent 1988 book
The Columbo Phile: A Casebook
, noted that the character's creators, Richard Levinson and William Link, at first wanted Lee J. Cobb to play Columbo. They then offered the role to Bing Crosby before settling on Falk. Um, wise choice.
Falk told Dawidziak that he bought Columbo's inimitable raincoat himself on a rainy day in New York. He kept it in a closet of his Beverly Hills home after the series ended its initial NBC run in 1978.
"I have a great deal of affection for it," he said. "I take great care of it. I've been known to say I put out a saucer of milk for it every night."
He loved the Columbo character, too, of course.
"What a mind," he told Dawidziak. "Who has a mind that sharp? Maybe Sherlock Holmes is that clever. It's a photo finish."
Falk won four acting Emmys as Columbo, the last in 1990. He was nominated an additional six times for the role. But his first Emmy win came in 1962, when he starred as Dimitre Fresco in
The Dick Powell Theatre
presentation of "The Price of Tomatoes."
Falk last played Columbo in 2003 in a movie titled
Columbo Likes the Night Life
. Jorge Garcia, who went on to play "Hugo" Hurley on
Lost
, had a supporting part in the film.
"Lieutenant, you're priceless. You're a gem," a murderer played by Dick Van Dyke told him in 1974's
Negative Reaction
. "A little flawed and not too bright, but you're one of a kind."
He definitely got the "one of a kind" part right.
Here's a brief video by which to remember the late great Peter Falk, who caught crooks without guns, browbeating or any other strong-arm tactics. He simply stripped them bare, one little thread of evidence at a time.