Teen Idol: Jordin Sparks takes the sixth
05/23/07 10:51 PM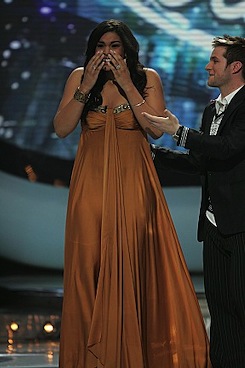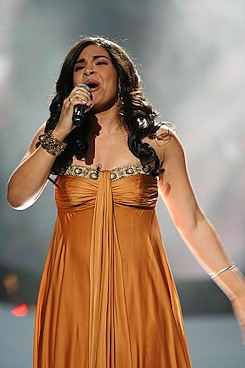 Jordin Sparks gets the news and then sings it loud on Idol's finale.
By ED BARK
American Idol
's long and winding road, which finally included some Beatles songs, ended Wednesday with 17-year-old Jordin Sparks alone at last.
She's easily the show's youngest winner and its second teenage champ in six competitions. Fantasia Barrino was just shy of her 20th birthday when she won in 2004. Sparks won't be 18 until Dec. 22nd.
More than 74 million votes supposedly were cast after Sparks battled fellow finalist Blake Lewis in a less than riveting Tuesday night performance show. Her performance of "This is My Now," product of a songwriting contest, sealed the deal in the eyes of truth-telling judge Simon Cowell.
"You just wiped the floor with Blake on that song," he said after they both performed it back-to-back.
This year's
Idol
hasn't matched last year's late-in-the game ratings, and Wednesday's finale will be very hard-pressed to get in the vicinity of the 36.4 million who watched Taylor Hicks win in spring 2006. Tuesday night's penultimate
Idol
drew 25.2 million viewers, beating the same night's
Dancing with the Stars
finale by just 2.2 million heads.
Hicks and fellow
Idol
victors Kelly Clarkson, Carrie Underwood and Ruben Studdard all performed on a crowded stage Wednesday night. The only missing winner was Fantasia, who's starring on Broadway in
The Color Purple
.
The four champs all participated in a closing medley from The Beatles'
Sgt. Pepper's Lonely Hearts Club Band
album.
Idol
at last had secured rights to the Beatles songbook this season, but couldn't get either Paul McCartney, Ringo Star or producer George Martin to be a "mentor" during one of the weekly competitions. They finally decided to deploy some of the songs anyway, opening the finale with Sparks and Lewis singing "I Saw Her Standing There."
One of its lyrics -- "Well, she was just 17, you know what I mean" -- obviously fit Sparks perfectly.
Already too long at two hours, the show went an extra eight minutes anyway, eating into the final hour of ABC's third season finale of
Lost
.
(We digress for a bit to note that
Lost
pulled off another big surprise by flashing "back" to what turned out to be the future. Everyone apparently was off he island after Dr. Jack Shephard summoned a rescue ship by phone against the wishes of both John Locke and "Others" leader Ben Linus.
But Jack wound up bearded, drug dependent, suicidal and desperate to return. "We were not supposed to leave," he pleaded to a sympathetic but unmoved Kate Austen in the finale's closing minute.
"Yes, we were," she said.
"We have to go back, Kate!" he then exclaimed. "We have to go back!"
Damn, the show's gotten good again, even if Jack's beard and mustache sometimes looked a little too transparently glued on.)
Idol
had its moments, too, good and bad.
Tony Bennett, down with the flu for an earlier scheduled performance, returned for the finale and was his usual brilliant self. And then some.
Green Day had a killer version of John Lennon's "Working Class Hero."
Gladys Knight joined
Idol's
six "girl" finalists for a very vigorous version of "Midnight Train to Georgia."
Melinda Doolittle, formerly a backup singer with BeBe and CeCe Winans, reunited with them and looked as though she were in heaven.
Clarkson, who seems to have mended fences with
Idol
, also tore through her new single, "Never Again." It's a pretty bitter screed, but she definitely didn't hold anything back during an extended version.
On the down side,
Idol
had the gall to tastelessly compare Sanjaya Malakar to the likes of independent-minded pathfinders John F. Kennedy, Martin Luther King and Albert Einsten. Then he took the stage with Aerosmith guitarist Joe Perry to again rasp his way through "You Really Got Me."
The "Golden Idols" were awarded again, too, to some of the show's most atrocious auditioners. Crazed, loud, thoroughly awful Margaret Fowler won one of them. She spent a seeming eternity onstage with host Ryan Seacrest before finally being shooed off.
"The man with the golden ears, Mr. Clive Davis" likewise stayed too long, rhapsodizing about what a great musical force the show has become before he finally gave some sort of record sales award to Underwood.
Davis, reigning lord of music industry execs, also extolled former
Idol
semi-finalist Chris Daughtry for having a big hit CD. But Daughtry was conspicuous by his absence Wednesday night.
Faces in the crowd, several of them attached to Fox shows, included Michael Chiklis, Jeff Foxworthy, Brad Garrett, Teri Hatcher, Jerry Springer and David Alan Grier. No Bill Maher this time, though. At least not on-camera.
Finally, after a more than two-hour prelude, Cowell and fellow judge Randy Jackson both picked Sparks to win. And of course, Paula Abdul said, "You're both winners."
Sparks soon was singing "This is My Now" for the second time in two nights. For now she's on top of the world. We'll see how it all shakes out.