Williams gets his SNL fix
11/05/07 06:27 PM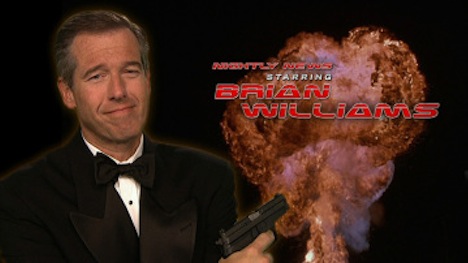 Gun included: SNL's mock Nightly News open. NBC photo
By ED BARK
The above imagery perhaps isn't ideal. It depicts the standardbearer of NBC News at ease with a handgun while a fireball that looks a bit too much like a mushroom cloud flares up alongside him.
Oh well, at least he got it out of his system. After resisting for years,
Nightly News
anchor Brian ("I know I"m often seen as a stiff") Williams fronted his network's
Saturday Night Live
over the weekend and showed that he's funnier than any number of previous hosts.
That's not surprising to those who have seen him out of character before. Williams has the performer's touch, whether soberly delivering the news or nimbly tossing off one-liners at industry events or with interviewers.
His best moments on
SNL
were as "Principal Jeffries" on a mock CW show and as a non-plussed $15 million Publishers Clearing House winner who later got excited when a pizza deliveryman told him that free cheesy bread was included.
(Actually,
SNL
regular Kristen Wiig made the latter sketch hum as a near-hysterical and hysterically funny Clearing House interviewer. But Williams somehow managed to resolutely stay in character when lesser hosts would have coughed up the bit by cracking up.)
Some parts of his
SNL
coming-out party were at least a little questionable, though. The mock James Bond-ish open to
Nightly News
-- "I need something young, yes, but dignified" -- no doubt marked the first time a network newsman brandished a gun in pursuit of laughs and viewers. Williams might already be rethinking that one just a little.
It also seemed that Democratic presidential candidate Barack Obama got a free pass from
SNL
in return for a surprise cameo in an opening sketch depicting a Halloween party thrown by a fake Bill and Hillary Clinton.
Williams wasn't a part of that one, but did play himself in a later bit in which he prepped an inept group of Democratic candidates for a debate while telling them that "all of us in the media want her (Hillary) to be the nominee."
The host then left to interview Hillary about, as he put it, "her first first 100 days in office." Obama, said to be "on the way" to the debate, was exempted from a resultant sketch that depicted all of the other remaining Democratic candidates as hapless, pathetically scheming also-rans. Maybe
SNL
had no one to play Obama? But former
SNL
player Tim Meadows easily could have been recruited, as was alum Horatio Sanz to impersonate Bill Richardson.
None of this probably matters much anymore, although it's still fair to ask
whether Katie Couric could have hosted SNL
without being torpedoed. But maybe she should go ahead and give it a shot at this point. Williams apparently has paved the way for any and all newsmen or newswomen to wear lampshades if they please.