"A star is born" -- blah, blah, blah
09/04/08 09:36 AM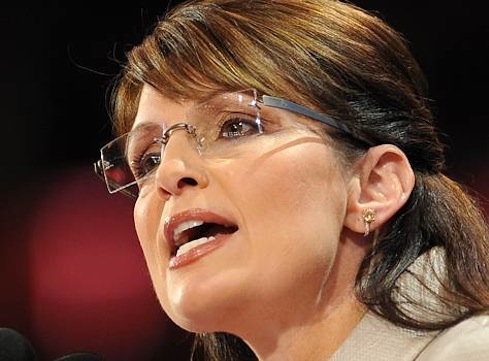 Larger than life? For one night at least, Sarah Palin was.
By ED BARK
Attacked all night for being liberal media elitists, heavy-hitters across the network TV universe turned the other cheek Wednesday night to heap praise on Sarah Palin's coming out party at the Republican convention.
The operative cliche -- "A star is born" -- popped up with a frequency almost rivaling "red meat." CNN's Wolf Blitzer launched this moon shot: "What an amazing speech from the Republican vice presidential candidate . . . a star is born."
Colleague Anderson Cooper likewise dipped into the "star is born" pot before dubbing Palin a "force to be reckoned with."
Fox News Channel's Brit Hume quickly returned serve: "A star has been born in the Republican Party tonight."
Tom Brokaw, again straddling NBC and MSNBC, began on the parent broadcast network by lauding Palin's "very auspicious debut. She could not have been more winning and engaging."
"One tough cookie," said George Stephanopoulos on ABC's brief post mortem. "She definitely gets an A," he added later on
Nightline
.
On CBS, Schieffer said that Palin had "passed the first test. The people in this hall absolutely loved this speech."
Even veteran Democratic analysts had no appetite for nailin' Palin.
"You've got problems," FNC floor reporter Chris Wallace told former Clinton communications director Howard Wolfson, who readily agreed.
"She was very, very good," he said, praising Palin's dexterity in smilingly "sticking the knife" into Democratic nominee Barack Obama. "Democrats have reason to be concerned."
Wallace grinned while jabbing back: "We have you here to say something critical," he told Wolfson. "So say something critical."
Wolfson said he doesn't agree with Palin on hardly any issues of import, but again rated her "very good" as a speechmaker on her grandest stage to date.
Another longtime Democratic strategist, Joe Trippi, said on CBS that Palin has many more hurdles to leap, but "passed this test with flying colors."
That left MSNBC, which spent much of Wednesday night on hand-wringing discussions of whether the Republicans again were unfairly targeting the media for digging into Palin's personal as well as professional life.
Chris Matthews blamed the "Safeway press" for much of the excess, in this case referring to
Us Weekly
's "Babies, Lies & Scandals" cover story on Palin rather than the
National Enquirer
's reporting on John Edwards' now admitted infidelity.
Keith Olbermann, still safely harbored in MSNBC's Manhattan studios after attending last week's Democratic convention in person, said he very much loved Matthews' Safeway line. Because, after all, Olbermann doesn't roll that way, other than to blog for the same Daily Kos website that received withering criticism for alleging that Palin's fifth child, four-month-old Trig, actually belongs to her pregnant 17-year-old daughter, Bristol.
Matthews later termed Palin's convention speech "very appealing." And conservative analyst Pat Buchanan, who had glowing praise for Obama's acceptance speech, amped up his rhetoric to this level: "This is a rookie who came in and threw a shutout in the first game of the World Series!"
MSNBC's Rachel Maddow, the new star liberal analyst getting her own show after the conventions, faulted Palin for attacking the Democrats too hard.
"I'm surprised we got so much belittling, rather nasty swiping at Obama," she said.
FAMILY IN FORCE
One of the more endearing moments at the Democratic convention came when Obama's two daughters waved and said "Hi, daddy" onstage after Michelle Obama's very well-delivered speech. Dad waved back from a big video screen.
The Palins managed a more memorable picture Wednesday night, thanks to six-year-old Piper. Network cameras caught her in closeup, licking her hand and grooming her baby brother's hair while holding him in her arms. Here's the video: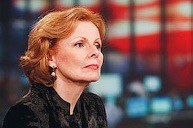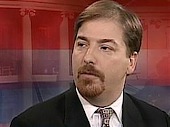 Three Stooges: Peggy Noonan, Mike Murphy and Chuck ToddDON'T START BELIEVIN' -- A WORD THEY SAY ON-CAMERA
Caught with their mikes still on --and egged on by MSNBC analyst/anchor Chuck Todd -- Republican strategists Peggy Noonan and Mike Murphy departed from their phoney-baloney "Talking Points" to say what they really thought of John McCain's Palin pick. (Noonan later offered
a very labored defense
on
The Wall Street Journal
's web site.)
The following revelatory video includes added print and pictures to identify who's saying what: