And the Emmy goes to -- frankly, will anyone give a damn?
09/17/08 11:27 AM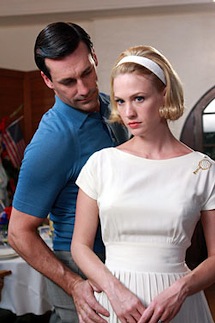 Star-crossed couples from Mad Men and the Dallas Cowboys.
ED BARK
Let's say you're the Emmy Awards. But for your sake, let's hope you're not.
Sunday night's
60th self-congratulatory celebration
of prime-time's allegedly best programming is also an odds-on bet to be the least-watched ever.
While ABC hunkers down in Hollywood, NBC will be presenting a
Sunday Night Football
matchup with optimum marquee value. The D-FW ratings obviously will raise the roof again, but a national audience likewise is going to be flocking to see unbeaten Dallas vs. unbeaten Green Bay at sacred Lambeau Field.
ESPN likewise has a potential heavy hitter in play. Its Sunday night baseball matchup between the Orioles and the Yankees isn't just any game. It's the last one to be played at ultra-historic old Yankee Stadium before the new one begins fleecing fans next season. A pretty big TV crowd is sure to gather.
The Emmys, to be hosted by a quintet of reality show hosts, air on the eve of a strike-damaged fall TV season with the fewest new series ever. So the buzz has been zzzzzzz. Nor does it help that the three programs with the most Emmy nominations -- HBO's
John Adams
, AMC's
Mad Men
and NBC's
30 Rock
-- have been seen by only a relative handful of America's TV-watchers.
It's kind of like the past winter's less than blockbuster Oscar telecast. You shouldn't have to be wildly popular to be nominated, but big crowd-pleasers do help to ring the Nielsen ratings register. Oscar had little of that, and the Emmys probably have less.
Last year, Fox's Emmy telecast drew 12.95 million viewers nationally, barely beating the all-time low of 12.23 million for the 1990 festivities on Fox.
Emmy's all-time high was 35.78 million viewers for NBC's telecast of the 1986 ceremony.
ABC will face an uphill fight to stay out of the all-time basement Sunday night. With that in mind, unclebarky.com's Emmy picks in select major categories will be
bold-faced
without further elaboration in the nominee lists below. It's who we think
should
win, not necessarily who will. Not that many are likely to be keeping score -- or a close watch.
DRAMA SERIES
Boston Legal
Damages
Dexter
House
Lost
Mad MenCOMEDY SERIES
Curb Your Enthusiasm
Entourage
The Office
30 Rock
Two and a Half Men
MADE-FOR-TV MOVIEA Raisin in the Sun
Bernard and Doris
Extras: The Extra-Special Series Finale
The Memory Keeper's Daughter
Recount
MINISERIES
Cranford
John Adams
The Andromeda Strain
Tin Man
LEAD ACTOR, DRAMA SERIES
Bryan Cranston, Breaking Bad
Michael C. Hall, Dexter
Jon Hamm, Mad Men
Hugh Laurie, House
James Spader, Boston Legal
LEAD ACTRESS, DRAMA SERIESGlenn Close, Damages
Sally Field, Brothers & Sisters
Mariska Hargitay, Law & Order: SVU
Holly Hunter, Saving Grace
Kyra Sedgwick, The Closer
LEAD ACTOR, COMEDY SERIES
Alec Baldwin, 30 Rock
Steve Carell, The Office
Lee Pace, Pushing Daisies
Tony Shalhoub, Monk
Charlie Sheen, Two and a Half Men
LEAD ACTRESS, COMEDY SERIESChristina Applegate, Samantha Who?
Tina Fey, 30 Rock
America Ferrera, Ugly Betty
Julia Louis-Dreyfus, The New Adventures of Old Christine
Mary-Louise Parker, Weeds
LEAD ACTOR, MINISERIES OR MOVIE
Ralph Fiennes, Bernard and Doris
Ricky Gervais, Extras: The Extra Special Series Finale
Paul Giamatti, John Adams
Kevin Spacey, Recount
Tom Wilkinson, Recount
LEAD ACTRESS, MINISERIES OR MOVIE
Dame Judi Dench, Cranford
Catherine Keener, An American Crime
Laurey Linney, John Adams
Phylicia Rashad, A Raisin in the Sun
Susan Sarandon, Bernard and Doris
REALITY COMPETITION SERIES
American Idol
Dancing with the Stars
Project Runway
The Amazing Race
Top Chef
REALITY HOSTTom Bergeron, Dancing with the Stars
Heidi Klum, Project Runway
Howie Mandel, Deal or No Deal
Jeff Probst, Survivor
Ryan Seacrest, American Idol