Fall TV: Inn-fantile Do Not Disturb leaves no vacancy for brain activity
09/10/08 08:26 AM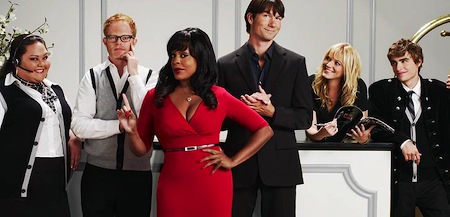 Presenting the sex-obsessed staff of Do Not Disturb. Double ugh.
Premiering:
Wednesday, Sept. 10th at 8:30 p.m. (central) on Fox
Starring:
Niecy Nash, Jerry O'Connell, Molly Stanton, Jesse Tyler Ferguson, Jolene Purdy, Dave Franco
Created by:
Abraham Higginbotham
By ED BARK
Does it require a certain talent to be effortlessly idiotic? If Joe Piscopo falls in the woods, does he make a sound? What color is an orange?
Fox's new
Do Not Disturb
, virtually certain to be fall's worst-reviewed new series, is best watched while repeatedly striking your noggin with a ball peen hammer. That way you'll at least be enroute to being rendered senseless by the time Niecy Nash from
Reno 911!
saunters into the picture to shout out her first line.
"Larry, what is this nasty filthiness you are reading? And are there pictures?" she asks an employee of what's supposed one of New York's "hottest and hippest" hotels.
Oh we have pictures. A whole DVD disc's worth. And it can only be hoped that
Do Not Disturb
hasn't injected a virus into the computer on which Wednesday's premiere episode unfolded.
Nash, best known for her
Reno
portrayal of deputy Raineesha Williams, has the centerpiece role here as a Human Resources director named Rhonda. Of course she violates her own ban on workplace affairs, quickly succumbing to the advances of the hotel's hunky head of security.
Meanwhile, general manager Neal (poor Jerry O' Connell) is trying to fight his David Duchovny-ian addiction to sex. In an all too typically broad exchange, he wails, "You all think I'm some lecherous, horndog boss running around with my fly open."
"Your fly actually is open," rejoins reservations clerk Molly (Jolene Purdy) as the laugh track goes nuts.
The employees depicted here clearly couldn't run a lemonade stand. Still, Fox publicity materials describe their workplace, The Inn, as "one of the Big Apple's '10 Best Places to Stay' . . . with its chic decor, stylish staff and celebrity clientele."
If "celebrity clientele" means Andrew Dice Clay, Tom Arnold or Frank Stallone, well, then, maybe. But we digress.
Neal eventually succumbs to an industrial strength flirter and new hotel employee named Tasha while Rhonda tries to secretly do the hoo-hoo with her stud.
But aha, crafty Neal tells her he's just installed "tiny security cameras" in the very basement where Rhonda's been springing into action. And he has the VHS tapes to prove it.
VHS tapes?! Isn't this supposed to be a state-of-the-art hot spot for NYC's elite? But
Do Not Disturb
very much feels like an artifact in every way imaginable. In times of one-camera, filmic comedies shorn of laugh tracks, this plays like an episode of
Shasta McNasty
. Only with less ambience.
Grade:
F