Idle thoughts on Idol as the finale nears
05/20/09 01:54 PM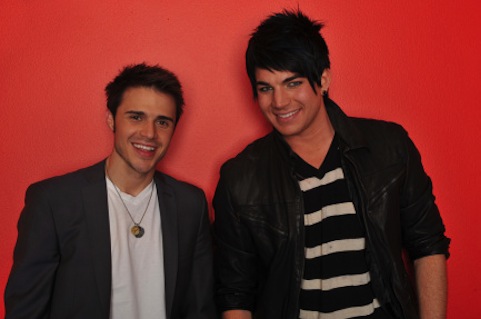 American Idol finalists Kris Allen and Adam Lambert.
By ED BARK
The singing's over, the votes are in and we're down to two guys again -- just like last year at this time.
If longshot Kris Allen wins, he'd be the first married contestant to do so in
American Idol's
blockbuster eight seasons.
If season-long favorite Adam Lambert's the pick, he'd be the first presumed gay contestant to cross the finish line in first place.
Either way it's been quite a season for Fox's king of all cash cows. The ratings have dipped, but then again, what hasn't?
Idol
remains a runaway No. 1 in the shrinking broadcast network universe. And Wednesday's two-hour finale will trample everything in its wake before the winner is forced to release yet another treacly written-for-
Idol
ditty -- "No Boundaries" in this case -- as his first post-show single.
I've seen every
Idol
episode this season, so here are some random thoughts on what went wrong and right.
***
Don't ever rush the show.
Idol
ran eight minutes past its allotted time earlier this spring, delaying the start of a returning new episode of
Fringe
. That's mainly because four judges are yapping this season. On the next performance night, only two judges were allowed to comment per contestant, in order to speed things up.
Let's get serious. Most Fox series that have lasted for more than a season owe their existences to
Idol
and its super-potent lead-in audiences. That dates all the way back to the first season of
House
. So
Idol
has earned the right to go as long as it needs to go. You don't penalize television's all-time breadwinner for taking a little extra time. Instead you just push everything else back to wherever it belongs. Second fiddles don't call the tune.
****
On the other hand, get rid of the extra judge. Kara DioGuardi may have succeeded in making Paula Abdul occasionally sound a bit more lucid this season. But she's become almost every bit as sycophantic, particularly where Lambert's concerned. Rather than sass Simon Cowell, she's cowed to him. End result: she's brought nothing new to the party. So buh-bye.
***
Always let Simon go last. The show fiddled for a while with rotating the judges' comments, a la
Dancing with the Stars
. This left Paula in a complete quandary when she had to go first. Viewers are accustomed to having Simon lower the machete after the others have had their mostly inconsequential says. He's the straw that stirs the drink, and has been from Day One. Don't pretend otherwise.
***
Deep six the "Judges' Save." It created little except a lot of phony baloney pseudo-drama at the end of the show, when a viewer evictee had to sing one more time in hopes of earning a reprieve. Only one save was allowed for the entire season, and Matt Giraud was the beneficiary. Viewers got it right the first time, though, and soon punched him out again.
***
Keep the duets. And if anything, expand them to include more of the Top 10 finalists. In this case, the show got down to the Final Four before Kris Allen and Danny Gokey were paired up, and then Adam Lambert with Allison Iraheta. It added a nice dynamic, and
Idol
should make more use of twosomes next season.
***
Announce the individual vote totals. Sometimes one wonders whether host Ryan Seacrest is just throwing numbers out there when he says that more than 37 million viewers weighed in. So how about showing each contestant exactly where they stand after the field is winnowed down to 10. Declare them "safe" in the descending order of their vote totals, and then display them for all to see. Viewers might be more proactive if they see that one of their faves escaped eviction by a hair.
OK, all that's left now is to predict who will win. I'm gonna go with an upset by Kris Allen, although he'll need an oversized turnout from tween and teen girls to pull it off.
Still, Lambert is the one who should win. He's brought something unique and original to the
Idol
firmament, and it goes well beyond his sexuality. I'm long past sick of Abdul and DioGuardi cooing over him. But Lambert has been the measuring stick all season. Or as a
New York Times
writer put it, the Elvis to Allen's Pat Boone.
Lambert's much more a poodle than a hound dog. But he's still best of show.