Tina trifecta: her third Palin sendup in four weeks gets even better with strong support from Jason Sudeikis as bravura Biden
10/05/08 07:57 PM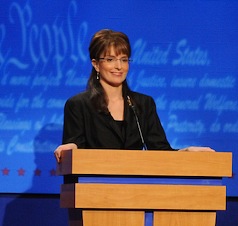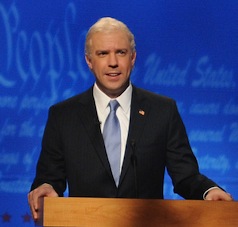 By ED BARK
Tina Fey risks putting herself in a Sarah Palin lockbox with three perfectly played parodies in the first four
Saturday Night Lives
of the season.
But if the snowshoes fit, wear 'em.
It's not just her, though. Even Fey needs a capable foil. For the first two outings, gal pal and
SNL
regular Amy Poehler navigated Hillary Clinton and then Katie Couric. Saturday's Palin-Joe Biden debate spoof squared her off against
SNL
trench warrior Jason Sudeikis, who more than held up his end. Queen Latifah dropped in as an unannounced guest to prime the pump as book-hawking moderator Gwen Ifill.
NBC says that
SNL
's ratings are up 49 percent nationally compared to last season's first four shows. No wonder. Palin's the gift that keeps on giving, but Fey must be wondering how long she can go on. Wonder Woman also has to carry NBC's Emmy-winning
30 Rock
, which might be feeling just a bit needy by now.
Here's the latest: