Let's play two
04/21/08 07:34 AM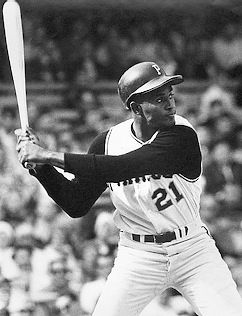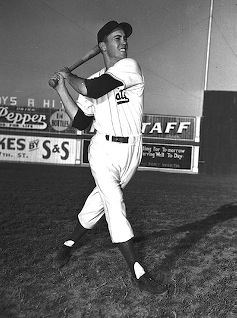 Pirate and Cat: Hall of Famers Roberto Clemente and Duke Snider.
By ED BARK
What play-for-pay North Texas baseball team has won its league championship the past three seasons?
Even those who think a foul ball is a lousy dance know it's not the Texas Rangers. So maybe you'd like to spend a little time with the winning Fort Worth Cats in the locally produced
Through a Cat's Eye
. It takes the field on Monday at 8 p.m. on KERA-TV (Channel 13) as part of a doubleheader that also includes
Roberto Clemente
at 9 p.m. under the umbrella of PBS' long-playing
American Experience
series.
Cat's Eye
, co-produced by David Hatchett, Rush Olson and Randal Crossman, is an obviously low-budget production that nonetheless touches all the bases in retelling the team's more than 100-year on- and off-history.
Clemente
is interesting but otherwise unexceptional in reconstructing the life and times of major league baseball's first Latino star. A recent biography by David Maraniss, who's interviewed in the film, is well worth your time if you'd like to learn much more about the "often misunderstood" Pittsburgh Pirates great. He died at age 38, in the autumn years of a Hall of Fame career, while on a flight carrying relief supplies to hurricane-ravaged Nicaragua.
The preceding
Cat's Eye
includes reminiscences from the likes of Duke Snider, Sparky Anderson (both are in the Hall of Fame), Maury Wills, Carl Erskine and Bobby Bragan, all of whom apprenticed in Fort Worth.
Famed CBS news anchor/reporter Bob Schieffer also makes the cut. He was a Cats fan as a kid, and remembers attending a game in which four players got married in a storied home plate ceremony.
"Oh, we talked about that for weeks," he says.
Anderson, who managed both the Cincinnati Reds and Detroit Tigers to World Series championships, says the Texas League of old separated the men from the sissies. In a long, hot summer, you had to play rough, tough baseball while also battling the elements.
"The mosquitoes were so bad in Beaumont, the big ones ate the little ones and got fatter," he recalls.
Host and narrator Olson can be a bit awkward in his on-camera appearances, but it's no big deal. Baseball historian Mark Presswood is the principal source of Cats paw prints, and he traces the team all the way back to its beginnings in 1888. One of the early stars, Clarence Kraft, hit 55 homers and drove in 196 runs in a single season. And "The Duke" remembers catching a major league scout's eye by homering "five or six" times in the 1946 playoffs against Tulsa and Dallas.
You'll also meet the very first Miss Fort Worth Cats, Barbara Feagin, who wore the crown in 1949. It was the same year a major fire destroyed a good part of the seating section at Fort Worth's LaGrave Field. But the fans came out anyway, and the games played on.
The Cats went out of business, though, from 1964 until being revived in 2001 under current owner Carl Bell, who had watched the team while growing up. He quickly revived the old right field bleachers' "Knot Hole Gang," and the team now has won three successive Independent League championships.
It's good to have all of this history in a tidy, one-hour documentary that might be just enough to spur a few trips to the Cats' home field, rebuilt on the same hallowed grounds as the old one. Bragan, Snider, Wills and Anderson since have had their
numbers retired
in ceremonies at the new field. All were able to attend in person, which is nice work if you can get it.
PBS' following
Clemente
, also an hour in length, is narrated by actor Jimmy Smits, who tells viewers that Puerto Rico's national hero "was larger than the game he loved."
As a kid, I remember him always killing my favored and long dormant Chicago Cubs. So it was hard to appreciate his artistry when he seemed to be knocking in the winning run game after game after game. Come to think of it, teammate Smoky Burgess was a nemesis, too. But enough of this.
Clemente spoke his mind both in and out of uniform, but his halting English alienated some sportswriters. The idea of a major league player named Roberto didn't cut it in some quarters either. His
Topps baseball cards
started out with "Roberto" in his first two seasons, but then "Americanized" him to "Bob" for the next 13 years before giving his given name back to him in 1970.
"I thought it grated on some people who thought the ideal ballplayer should be like Gary Cooper," says George Will, who arguably loves baseball more than his longstanding conservatism.
Other interviewees include former Pirate teammates Al Oliver (also a star Texas Ranger), Steve Blass and Manny Sanguillen. Clemente's widow, Vera, and brother, Matino, also are in the mix.
Before his tragic death, Clemente logged exactly 3,000 hits, won four batting titles and a dozen Gold Gloves, and starred as an elder statesman in the Pirates' 1971 World Series win over the favored Baltimore Orioles.
The PBS documentary doesn't do a very good job, though, of bringing him alive to a new generation.
American Experience
has a long and mostly stellar track record, but this biography hits only about .250. At best it's barely average and workmanlike, something Clemente would never dream of being.
GRADES
Through a Cat's Eye
-- B
Roberto Clemente
-- C