ABC anchor David Muir: from pizza chef to Muppets interview, it's all in the night's news
11/18/14 03:16 PM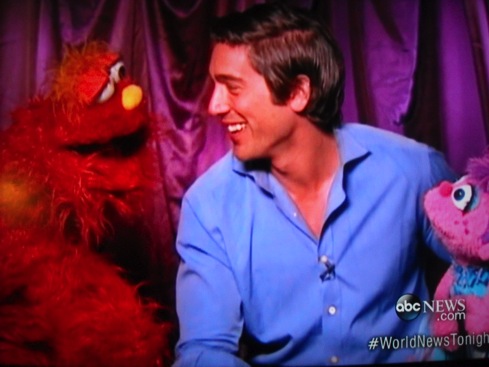 David Muir is at ease interviewing two Muppets. Photos: Ed Bark
By ED BARK
@unclebarkycom on Twitter
John Muir was a naturalist, most in his element when alone in the elements.
ABC's David Muir is a TV natural, in his element alone at a news desk but more so when out and about doing things that networks anchors just didn't used to do.
On the Monday, Nov. 17th edition of
World News Tonight
, he earnestly put together his own pizza for a "Made In America" segment on the virtues of California olive oil. "Mine is just not going to be quite as pretty as yours," he told a New York City restaurateur before happily removing his personal pie from the oven and taste-testing it. Mmm, pretty good.
The Monday, Nov. 10th
World News
found him interviewing Muppet characters for his story on
Sesame Street's
45th anniversary. Muir, who just turned 41, grew up watching the show as a kid. "Did you know he was actually orange in the first season?" he asked viewers, referencing Oscar the Grouch.
ABC chief meteorologist Ginger Zee, who lately has logged ample time on
World News
during the cold weather snap, also found time to jump out of a plane on Friday, Nov. 7th during a
Good Morning America
segment. For some reason, Muir found this to be newsworthy. So on that night's
World News
, he narrated some of the footage of Zee "taking us with her for every single second of her sky dive live."
At the close of that same newscast, Muir hung out backstage with Bruce Springsteen, Jon Stewart, Louis C.K. and John Oliver, all of whom performed at a Wounded Warriors benefit. Muir beckoned Lee Woodruff, wife of ABC News correspondent Bob Woodruff, to join him with Oliver. "You're a poser," she told the host of HBO's satirical
Last Week Tonight
. "This is a real newsman."
"No one's denying that," Oliver said twice while Muir seemed to enjoy the moment.
In the past week, Muir also has huddled up close with a 93-year-old World War II veteran and Sarah Jessica Parker, somewhat dubiously named
World News'
"Person of the Week" for her efforts on behalf of the New York City ballet.
"No one ever stops construction for me," he said when she turned heads as they walked through Manhattan.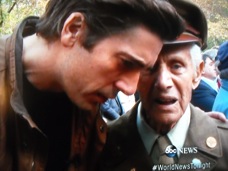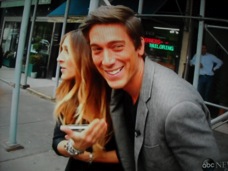 Muir in NYC with WWII vet and Sarah Jessica Parker.
Muir, young enough to be the kid brother of either Brian Williams or Scott Pelley, also logs ample time on ABC's
Good Morning America
, where he's usually somewhere near Zee. He's not averse to a little dancing on the side during the show's live concert segments. Problem is,
GMA
has gotten so slap-happy that even Zee's predecessor, Sam Champion, has
carped about its content
. And he's a guy who was the slap happiest of them all.
But this just in: It's working. The carefully managed softening of ABC's
World News, GMA
and
Nightline
, under the guidance of former news president Ben Sherwood (soon to be president of the ABC-Disney Television Group), has paid ratings dividends across the board.
GMA
has risen to No. 1 in its pitched battle with former kingpin
Today
while
Nightline
's often goop-infested presentation is beating both Seth Meyers and Craig Ferguson in total viewers and 25-to-54-year-olds (main advertiser target audience for news programming).
World News
, which Muir has anchored since taking over for Diane Sawyer on Sept. 1st of this year, still trails NBC's
Nightly News with Brian Williams
by a relatively small margin in total viewers. But it has inched ahead among 25-to-54-year-olds, beating
Nightly News
in seven of the last eight weeks, including the latest one (Nov. 10-14).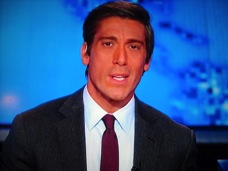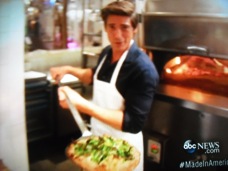 David Muir at the anchor desk and slinging his handmade pizza.
NBC is striving to keep Williams at or near the top with a new slogan -- "He's been there. He'll be there."
Celebrating his 10th anniversary as anchor of
Nightly News
, Williams spent considerable time in the hard reporting wilderness -- both domestically and abroad -- before succeeding Tom Brokaw. Touting his experience is another way of saying that Muir is a pretty boy poser without portfolio.
But despite his boyish matinee idol good looks, Muir has some solid reporting credentials in the bank. In fact he's been all over the globe, just as Williams was during his run-up to
Nightly News
anchordom.
It's still doubtful that Williams would agree to a chat with the Muppets or a stint as an ad hoc pizza chef on
Nightly News
. But he's not exactly pure in terms of the fading debate over how network news anchors should conduct themselves. Williams has hosted
Saturday Night Live
and long has had a killer sense of humor as a late night talk show guest. In fact he could teach Muir quite a bit about how to deliver a punch line.
For now, Muir still has the boundless energy of a very cuddly and cute puppy. He'll do what needs to be done in rapidly changing times. All of this comes with the complete endorsement and encouragement of his bosses, who no doubt loved him in that cook's apron and might be lobbying him to next do a stint as a bartender. Never fear. They'll find a "news" angle.
Email comments or questions to:
unclebarky@verizon.net