A hard-knocks but poetic life for the ages in PBS' Maya Angelou: And Still I Rise
02/21/17 09:14 AM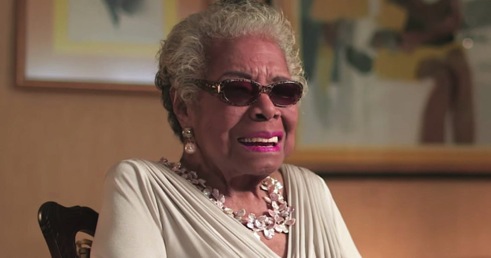 Maya Angelou enjoying a fine senior moment. PBS photo
By ED BARK
@unclebarkycom on Twitter
Poet, autobiographer, activist, actress, singer, dancer, survivor -- and so on.
Maya Angelou's life was an amazing
tour de force
of stellar accomplishments borne of nearly debilitating setbacks and deprivations. PBS'
Maya Angelou: And Still I Rise
, premiering on Tuesday, Feb. 21st (
7 to 9 p.m. central on KERA13 locally
), is an overdue celebration and commemoration. She died at age 86 on May 28, 2014, but remains of strong voice via the exclusive interviews conducted for this two-hour documentary.
Filmmakers Rita Coburn Whack and Bob Hercules have much ground to cover and make a Herculean effort to cover it all under the banner of PBS' prestigious
American Masters
series. Angelou, best known for her landmark 1969 memoir
I Know Why the Caged Bird Sings
, seems to remember her entire life as though it were yesterday.
One of her most vivid early recollections, from a childhood in Stamps, Arkansas, is of hiding the partially paralyzed Uncle Willie in a bin full of potatoes and onions after the Ku Klux Klan was rumored to be riding in. He otherwise sternly taught the then Marguerite Annie Johnson and her older brother, Bailey, their multiplication tables.
The two children got passed around by their parents, first to live with their paternal grandmother in Stamps and then to St. Louis to be reunited with their divorced mother. Angelou recalls being raped at age seven by her mother's boyfriend, who spent just a day in jail before being freed and then found murdered. The child blamed her voice for uttering her assailant's name and thereby causing his death. So she stopped talking for the next five years and didn't speak again until a teacher and friend of the family told her that a newfound love of poetry could only be fully appreciated by reciting the words. By that time she had been sent back to Stamps again as basically unwanted baggage.
"When I decided to speak, I had a lot to say," Angelou recollects.
Eventually sent back to her mother, who now was living in Oakland, Angelou had her only child, a son named Guy, after an impulsive, onetime sexual encounter. A teen at the time, she had become long-legged, six feet tall and for a short period a table dancer and prostitute. The name Maya took hold after she became a professional calypso dancer of note, recording the album
Miss Calypso
and also appearing in the 1957 movie
Calypso Heat Wave
. During those days she also married and divorced the first of her three husbands, a Greek named Tosh Angelos.
"My mother has not had the good fortune to have love that lasts a long time," Angelou's son, Guy, says diplomatically.
"I've always been a patsy for men who could think," says Angelou, referring to a second marriage to Vusumzi Make, a decidedly plus-sized South African political activist and wheeler-dealer.
Some accounts say they were never officially betrothed. But in the PBS film, Angelou narrates what she wrote about the dissolution: "We had worn our marriage threadbare, and it was time to discard it. I knew that other women would be in that house before the sheets lost my body's heat."
She was an activist at this point, establishing close ties with a Mount Rushmore of towering freedom fighters. The Rev. Martin Luther King, Jr., Malcolm X and James Baldwin all had her ear -- and vice versa. When King was assassinated in 1968, "it just knocked me out and I fell into mutism again," Angelou says.
But this opened a door when Baldwin came calling and demanded that she pull herself out of seclusion and join him at a party being given by cartoonist/satirist Jules Feiffer and his wife, Judith. Upon hearing some of the stories from Angelou's childhood, Judith contacted Random House editor Robert Loomis and told him of her find. He kept cajoling and finally persuaded her to write a memoir of her early years. It became
I know Why the Caged Bird Sings
.
Both Loomis and Jules Feiffer contribute new interviews to the film, which also includes recollections and appreciations from Bill and Hillary Clinton, Oprah Winfrey, Cicely Tyson, Alfre Woodard, Lou Gossett Jr. and Quincy Jones. Angelou came to new prominence in 1993, when Bill Clinton asked her to write and orate a new poem for his presidential inauguration.
"I knew she'd make an impression," he says. "She was big and she had the voice of God." Angelou called the poem "On the Pulse of Morning." And in Clinton's view, "it'll read well a hundred years from now."
In later years, Angelou became a vocal arch enemy of the n-word, terming it "poison" and unfit for use by any race. "No, no, no, no, no, it's vulgar," she says during a latter day speaking engagement included in the film.
There's much more to be seen and heard in
And I Shall Rise
, which deploys a treasure trove of archival footage and still photography in tracking Angelou's incredible life and transformations. Her son, Guy, is not shy about expressing his views, even if they're sometimes not based entirely on fact. He's most memorable at the end of a story on how his mother was denied work as an understudy to Pearl Bailey in an all-black Broadway version of
Hello, Dolly!
after the star supposedly vetoed her as too big and ugly. It deprived her of a chance to settle in New York City and be with him for a full year, he recounts.
Thirty-five years later, according to Guy's emphatic recollection, Bailey received a lifetime achievement award (from the Screen Actors Guild), and asked Angelou to present it. "And guess who gave it to her, and never said a
damn
thing!" he exclaims, nearly spitting out the words while choking up.
In reality, Bailey's earliest appearance in
Hello, Dolly!
came in 1968. She received the lifetime achievement award just eight years later, in 1976 -- and died in 1990. So if the anecdote is true, the timeline is way off. Whatever the case, the filmmakers should have double-checked rather than let the "35 years later" claim stand on its own.
This is relatively minor in the grand scheme of things, although it does give some pause, particularly regarding Guy's contributions. The progression of events also can be a bit jumbled at times. They include Angelou's third and final marriage, to Britisher Paul du Feu, who previously had been wed to noted feminist Germaine Greer. "He had a tendency to drink -- to his fill," Guy says. After nine years it was over, to the shock of longtime friends such as Tyson, who viewed their relationship as the "most compatible" of all.
And Still I Rise
mostly soars, though, on the wings of Maya Angelou's own words and recollections. She lived a multifaceted life for the ages, overcoming a wealth of indignities while also rising above her own considerable faults and frailties.
Woodard, who starred in the Angelou-directed 1998 film
Down in the Delta
, marvels in the end at the contributions and legacy of a pathfinder who remained vital, lucid and indomitable until the very end.
"Man, the curtain going down on that act," she says of Angelou. "Thank God I got to live in that time."
GRADE:
A-minus
Email comments or questions to:
unclebarky@verizon.net