TV THEME SONG-ville -- Episode 8
08/30/10 01:20 PM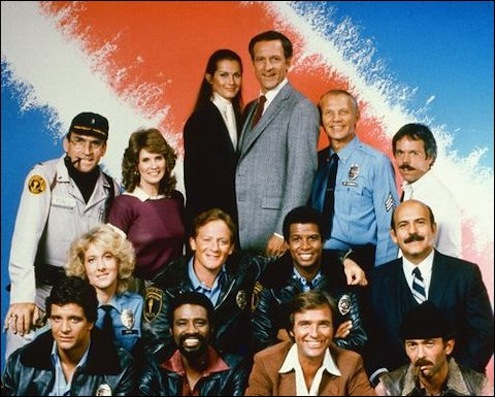 By ED BARK
Our pre-fall season journeys to TV THEME SONG-ville begin their final week with opening mood music for the classic ensemble police series that paved the way for Emmy caliber descendants ranging from
St. Elsewhere
to
L.A. Law
to
ER
.
Hill Street Blues
was earmarked for NBC's 1980 fall season. But an actors' strike delayed its debut until January 1981. In June of 1980, during the TV networks' annual summer "press tour" in L.A., it was the first interview session I attended as the new TV critic for
The Dallas Morning News
. You might say I got spoiled.
The ever-distinctive opening music is from Mike Post. And of the 13 regular characters pictured in the opening credits, Michael Conrad, Kiel Martin and Rene Enriquez are deceased.
None of the remaining cast members has achieved the on-camera staying power of another rookie from the 1980-81 season, Tom Selleck of CBS'
Magnum, P.I.
. Thirty years later, he'll be fronting the new CBS fall cop series,
Blue Bloods
. For seven shining seasons, though,
Hill Street
established a standard of excellence that still reverberates. Here's its siren song: