Sunday's stately Oscars: Without a pulse or a pause that refreshed?
02/25/07 11:29 PM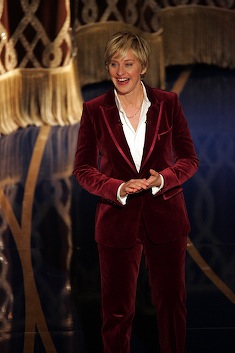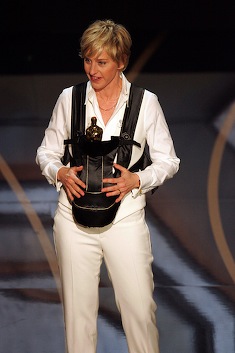 Host Ellen DeGeneres opened in off-red and later emerged with an Oscar fanny pack to aid winners with no place to put their statues.
By ED BARK
Let's try two takes for Sunday's 79th annual Oscar-cast.
Take 1:
Blah, blah, blah. Not the passing parade of acceptance speeches but the show itself. It was so blah that even victorious
Al Gore
seemed almost dynamic.
Take 2:
The Oscars finally gave America what it hadn't had in way too long -- a dignified if de-magnetized respite from
Anna Nicole Smith
and
Britney Spears
. Hooray for this side of Hollywood. It's about time.
It's easy to see both sides, although ABC's three hour, 51 minute ceremony (23 minutes longer than last year's) definitely had a power outage when it came to memorable moments.
Yeah, it was nice to see director
Martin Scorsese
at last get a statue near show's end. But it's a pretty tame affair when tongues are left to wag about best supporting actor
Alan Arkin's
decision to put his Oscar on the floor before fixedly reading his acceptance speech from a piece of folded paper.
That's because the Academy decided to mimic the Golden Globes in going podium-less. Victors instead had to stand before a naked mike that left them with no place to rest either their elbows or their Oscars. Some fumbled a bit, but Arkin must have been the first winner to floor his hardware.
On the other hand -- and some
winners
could have used three of them -- the Oscars aren't supposed to be a three-ring goof-fest. You don't want to be stiff as a board, but maybe the pendulum had swung too far in recent years with hosts that treated the assembled nominees as balloons at a midway dart game.
Host
Ellen DeGeneres
definitely didn't do that. She began the night with a gentle, up-with-people monologue that celebrated the diverse, international field of nominees. That came just after an extended opening film pictured many of them informally if not always interestingly.
Rather than parody their movies, DeGeneres pretty much sang the nominees' praises, complete with a gospel choir that tried to raise the roof with a refrain of "Celebrate, Sing Hallelu." Actually, it kind of cleansed the palate on a night without a single joke about Spears or Smith, who even went unmentioned during the traditional film montage of the year in Hollywood deaths.
The host twitted nominees as nervous wrecks but also made it clear she was thrilled to be among them. Her jokes aimed to please, particularly when DeGeneres noted that
Jennifer Hudson
had a nomination for
Dreamgirls even though viewers didn't vote her an American Idol winner.

"Al Gore's here," she then added. "People did vote for him."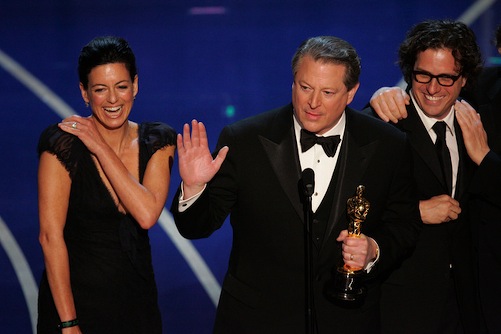 Gore and Hudson both wound up winners, which was hardly surprising. The night's only semi-stunner, in the major categories, was Arkin's victory over favored
Eddie Murphy
in the best supporting actor competition. Murphy would have been the first former
Saturday Night Live
cast member to win the big screen's big one.
Another
SNL
-trained thespian,
Will Ferrell
, kicked off the night's only extended spoof. His hair still in an Afro -- for a role as an American Basketball Association player/coach -- Ferrell lamented in song that a funnyman's big box office movies are never rewarded with Oscar nominations. Fellow outcast
Jack Black
soon joined him before Ferrell's
Talladega Nights
co-star,
John C. Reilly
, made it a threesome onstage. It was an OK bit, with all three men vowing to someday take
Helen Mirren
home with them.
The night's most photographed attendee,
Jack Nicholson
, probably can still take home just about anybody he desires. On this night he was chunky and bald for a role as a terminal cancer patient in the movie
The Bucket List
, in which he's co-starring with
Morgan Freeman
.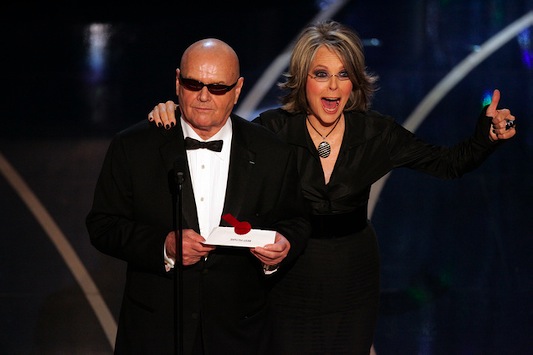 Nicholson and old pal Diane Keaton present the Best Picture Oscar.
DeGeneres said she was thrilled that Nicholson appeared to be having a good time. Her own time on camera seemed minimal compared to other hosts. But she had one more funny bit amid Oscar's stately procession through filmed tributes and "these five incredibly depressing movies," as presenter
Jerry Seinfeld
described the documentary feature category won by Gore's
An Inconvenient Truth
.
As she did while hosting the Emmys, DeGeneres toured the celebrity-studded audience. This time she had bigger game --
Clint Eastwood
. And he played along very amiably when she asked him to pose for a picture that would be perfect for her myspace page. DeGeneres then enlisted
Steven Spielberg
to snap it, but wasn't satisfied with his first one.
"Could you make it a little more even on both sides?" she asked a guy who if nothing else knows how to frame a shot.
Eastwood later stumbled a bit through his tribute to composer
Ennio Morricone
, the night's honorary Oscar recipient. "I should've worn my glasses," he said.
Morricone gave his acceptance speech in Italian, with Eastwood acting as translator. It was less than riveting.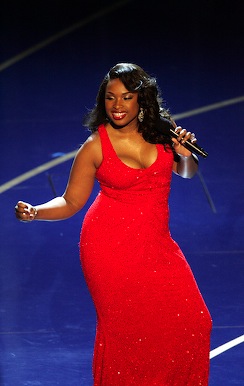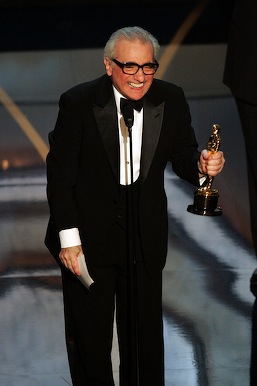 Jennifer Hudson and Martin Scorsese were happy together.
The home stretch -- and who didn't need a stretch by then? -- retained some buoyancy with Scorsese's long overdue win and a terrific performance of a
Dreamgirls medley by Hudson, Beyonce and Anika Noni Rose.

"I cannot believe this. Look what God can do," Hudson had said in her earlier acceptance speech.

"Could you double-check the envelope?" said Scorsese at the start of his.

So much for fireworks. This was a tame Oscar-cast, all right. But was it lame as well? After more than two weeks of Anna Nicole Smith and a Britney Spears chaser, I'm OK with a little boredom in the service of dignity. Cut. print.