Dicks on your box: Two new NBC series spotlight offbeat gumshoes
03/14/07 10:57 AM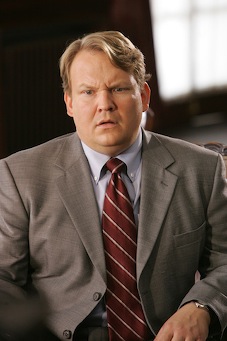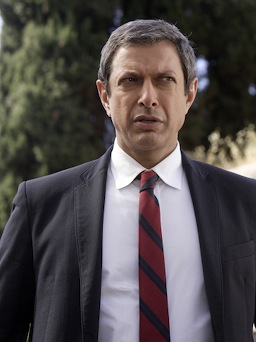 Andy Richter and Jeff Goldblum go public as NBC private eyes. From the looks on their faces, they also might be feeling a wee bit gassy.
By ED BARK
NBC's Thursday night lineup gets two defective detectives this week. Enjoy or ignore them while you can.
Everyman Andy Richter goes first, playing an accidental private eye in
Andy Barker, P.I.
It's getting
30 Rock's
8:30 p.m. central slot, but only through April 12.
Semi-creepy Jeff Goldblum is next. He sees dead people in
Raines
, scheduled to fill
ER's
9 p.m. home base through April 5.
Neither series is terrible, but it's hard to imagine either of them returning next fall. Their Thursday night trial runs, both beginning on March 15, are likely to be as good as it gets for them.
Richter plays -- as you've probably guessed -- Andy Barker. His failing one-man accountant business gets juiced when a femme fatale offers him $4 grand to find her husband, whom she believes is missing, not dead. The woman has mistaken him for retired dick Lew Staziak (Harve Presnell), whose office Andy is renting. She's also part of a ruse.
Co-created and produced by Conan O'Brien,
Andy Barker
plays like an extended version of one of their old
Late Night
sendups. There are no real characters or plausible situations. It's just play-acting Andy flying by the seat of his plus-sized pants, which sometimes is enough. Just hearing him say, "Oh, cheese and crackers" qualifies as a small helping of comedy gold in the premiere episode.
Andy's partners in crimesolving are the grouchy Staziak and two daft fellow strip mall occupants, video store schlepper Simon (Tony Hale from
Arrested Development
) and restaurant owner Wally (Marshall Manesh).
Our hero otherwise is devoted to his equally devoted wife, Jenny (Clea Lewis), who sounds just like Carol Kane. They enjoy watching
Judging Amy
reruns together.
Absent a laugh track and filmed in wide screen,
Andy Barker
fits the overall blueprint of latter day NBC comedies. But it's just not as smartly funny as
The Office, My Name Is Earl, Scrubs
or the series it's subbing for.
Rooting for Richter is almost a given, though. He's a good guy off-screen and a relatable Joe Schmo when on the other side of a piece of plate glass. Still, his best times were as O'Brien's late night sidekick, and it would be cool to see them reunited in that setting. An opportune time would be 2009, when Conan is slated to relocate from New York to L.A. to take over
The Tonight Show
. It'd be easy to bring Andy with him for a fresh start that also would be like old times.
***
After
Andy Barker
comes
Raines
, with the low-talking Goldblum often seeming narcoticized as LAPD detective Michael Raines.
"I think I read too many detective novels when I was a kid," he says in his opening narrative.
It still hasn't prepared him for life after death. Or to put it another way, murder victims figuratively come alive and talk to Raines while he's trying to put two-and-two together. This is hardly a novel twist anymore, what with
Medium, Ghost Whisperer, Lost
and
Supernatural
currently populating broadcast networks' prime-time schedules.
Thursday's opener finds Raines tracking the killer of a young woman whom he soon learns was a prostitute. Invariably clad in a sportcoat, tie and dress shirt, he zips from one scene to another, always looking awkward with a gun in hand.
For solace, Raines leans on his good-humored dead partner, Charlie Lincoln (Malik Yoba), who took a bullet to the head in the line of duty. They sometimes meet in a cemetery. Talk about your grave circumstances.
Goldblum is in almost every scene, and has lots of dialogue, too. Often it's delivered in a beaten-down, low-decibel monotone, making the character both hard to hear
and
bear. Raines could use a Marine Corps drill instructor barking "Can't hear you!" whenever he lapses into a near-lifeless state.
A second episode sent for review doesn't turn up his volume, but plays better than the first. It also introduces a shrink named Samantha Kohl, (Madeline Stowe), whom Raines has been ordered to see by his cop shop boss. Their dynamics might prove to be interesting, although many viewers might well have lost interest by then.
Grades:
Andy Barker, P.I.
-- C+;
Raines
-- C