04/30/07 05:42 AM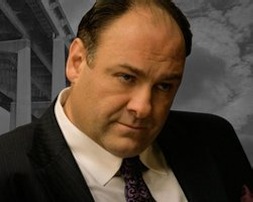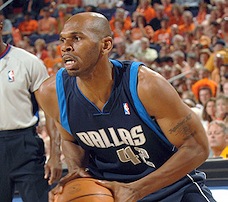 By ED BARK
For awhile it seemed as if the stars had aligned to produce a magical life-imitates-art night for Jerry Stackhouse.
On HBO's preceding episode of
The Sopranos
, Tony's run of big-time gambling bad luck had been punctuated by Stackhouse's buzzer-beating three-pointer against the San Antonio Spurs. It gave the Mavs a 109-108 win.
Then in Sunday night's real deal, Stackhouse rallied Dallas in the second half, getting to the foul line time and again. His 24 points, 17 after intermission, led all Dallas scorers.
But then Stack missed a wide open three. And another. And a third. A traveling call topped off his night in the game's deadening final minutes. Golden State 103, Dallas 99. Tony should have had money on the other team in
this
game.
Afterward on TXA21 came another homer call by Bob ("I Can See Clearly Now Who Signs My Checks") Ortegel.
"Just an outstanding effort" by the Mavericks, he said.
Ortegel teed it up again after a commercial break: "I still thought that the effort by the Mavericks tonight was absolutely superb."
Did anyone expect less? Should it be a shock that the NBA's winningest regular season team tried really hard to beat a No. 8 seed? Truth-telling Derek Harper, who teams on TXA21's post-game show with Gina Miller, declined to eat Ortegel's Sugar Pops.
"I'm gonna agree with Dirk that it's over," he said, echoing Nowitzki's earlier quote that Dallas' season was shot if they didn't win Game 4.
"Golden State simply wants this series more than Dallas does right now," Harper added.
Over on TNT, roles were reversed for the Mavericks' usually harshest critic, Charles Barkley. After Dallas' loss in Game 1, he predicted the Mavericks would win four straight and knock Golden State out.
Sir Charles even wore a green No. 41 Nowitzki jersey throughout the halftime and post-game shows. But for the latter he glumly held his head in his left hand while deskmates Ernie Johnson and Kenny Smith gleefully shredded him.
This won't be a championship year, even if Dallas somehow rises from the dead to beat the Warriors three games in a row.
Consider this: San Antonio and the Phoenix Suns both took care of business on the road over the weekend, winning pivotal games against higher-seeded opponents than Golden State. The Mavericks cratered twice, this time collapsing in a fourth quarter that seemed to be going their way.
Local TV's 10 p.m. newscasts at least will profit from what looks like a quick Mavs exit. They were facing a prolonged period of ratings erosion during the May "sweeps." Now things are looking up -- for them at least.
The remaining open question, directed at Mark Cuban, goes like this: Will losing to Don Nelson -- the two despise each other -- be harder to stomach than last year's collapse in the NBA Finals?
Or you can look at it the way Ortegel will. Pull the string on the imaginary Ortegel doll and hear him say: "The Mavericks have faced adversity before, and they've overcome it. You won't see this team hanging their heads. I for one expect them to come out before their home fans and play as if their lives depended on it."
Oh shaddup.