10/31/06 08:32 PM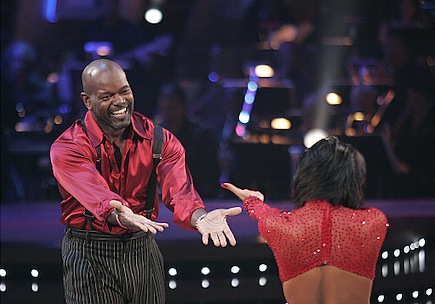 Guy just wants to have fun. Emmitt, Cheryl and last week's mambo.
By ED BARK
Their fox trot got judged not so hot, but Emmitt Smith and Cheryl Burke regrouped with a show-stopping rumba to close out Tuesday's latest
Dancing with the Stars
.
It netted their second near-perfect 29 score, with Emmitt's old Cowboy mate, Michael Irvin, representing from the crowd. Judge Bruno Tonioli otherwise carried the ball with a big boo yah on Halloween night.
"You know how to play a woman!" he trumpeted. "No one can teach you anything. Strong yet gentle, confident but attentive."
As testament, one of Cheryl's earrings flew off at the end. Both were visions in white on a night when cleavage was king and some men were Kongs. Judge Len Goodman, a toughie for much of the evening, melted like a campfire marshmallow at the corseted sex kitten look flaunted by statuesque Edyta Sliwinska, partner of Joey Whatsisname.
"The costume -- you should wear that every week," he raved. Tonioli chipped in with "drop-dead gorgeous."
We pause now while Uncle Barky takes a cold shower and then tries to reclaim his sorely compromised manhood by doing 25 squat thrusts.
Now back to Len Goodman, who said he wanted to give Emmitt and Cheryl an 11 instead of the top-of-the-line 10. He was far less enamored of their fox trot, in which Emmitt at least dressed the part in a killer black tux and royal blue shirt.
"For me there was only about four bars of that whole routine in the ballroom mode," he sniffed, drawing a stern rebuke from from li'l Tonioli. "Bewitching," he said, and "appropriate for the evening."
Third judge Carrie Ann Inaba, still clearly smitten with Emmitt, judged him "a little too stiff" with his fox trot but just right with the rumba.
"Maybe Cheryl, we should switch positions or something," she cooed before oddly giving the pair just a 9 while the other other two judges rang up 10s.
Combined with a 25 for the fox trot, it gave Emmitt and Cheryl a 54-score in the show's Final Four showdown. That tied them for second place with Joey Whatsisname and Edyta, but both couples were just a point ahead of Monique Coleman and Louis van Amstel. That left Mario Lopez and Karina Smirnoff leading the pack with a 57 score going into Wednesday night's weekly elimination round, where viewers' and judges' votes will be weighted 50-50.
Emmitt said life has been hectic and his recognition level "off the charts" in the last month. "For dancing," he marveled. "Who would have thunk it?"
The NFL's all-time leading rusher remains determined to bring this trophy home, even though he supposedly can't even go to the bathroom anymore without thinking of dance rhythms. Or as Lawrence Welk so famously put it, "A one and a two."